With the addition of the Retreat on the Edge, Celebrity significantly ups the value and benefits for suites guests. Following the lead of Norwegian's Haven and MSC's Yacht Club, the Retreat offers an upscale, sophisticated, and private sanctuary for suites guest.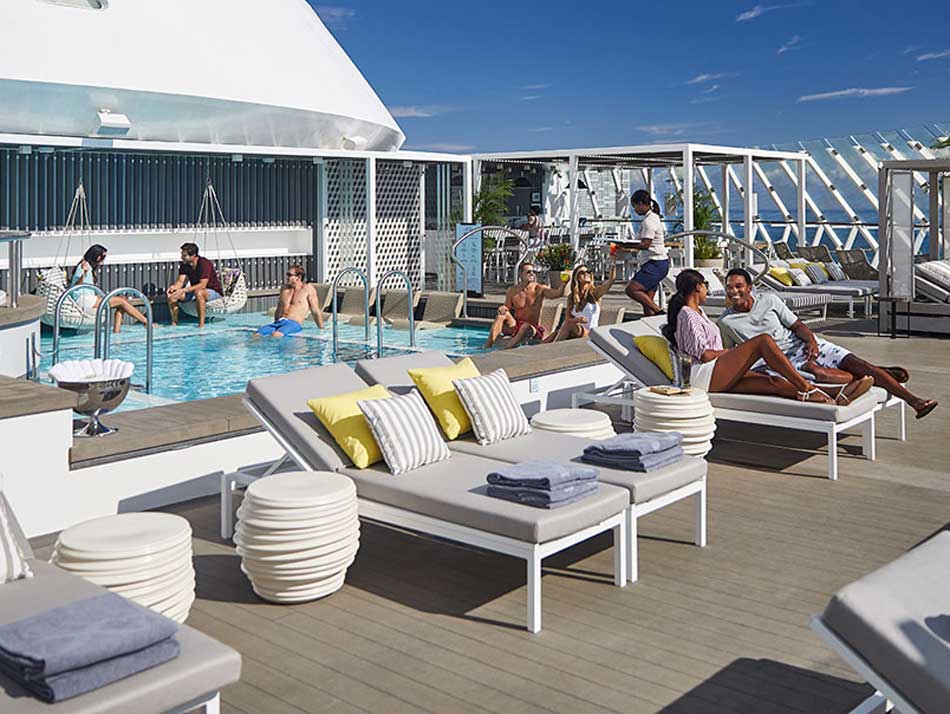 Access to this new private lounge and pool area is restricted through the use of a suites guest's stateroom card.
Now in addition to the suites only upscale Luminae restaurant, suites guests also gain access a bright and spacious lounge complete with complimentary cocktails, coffees, teas and sodas. The lounge is perfect getaway for reading a book, having drinks with friends, or catching up on business (yes it is a vacation, but some of us have to work even while on vacation and appreciate a comfortable area to work).
One deck up is the Retreat pool deck and bar. This large private area is divided – the most forward area features the pool, a hot tub, sunbathing lounges, and a pool side bar. In addition to serving cocktails, the poolside bar offers a limited but worthwhile menu. My favorite is the chicken sandwich which is plump and juicy, complimented nicely with a shrimp cocktail.
Behind the bar and pool area is an expansive sunbathing area, with plenty of lounges. Calm and relaxing music plays in the background. There is even a secret area which blasts cool air onto guests – great for those hot humid Caribbean days.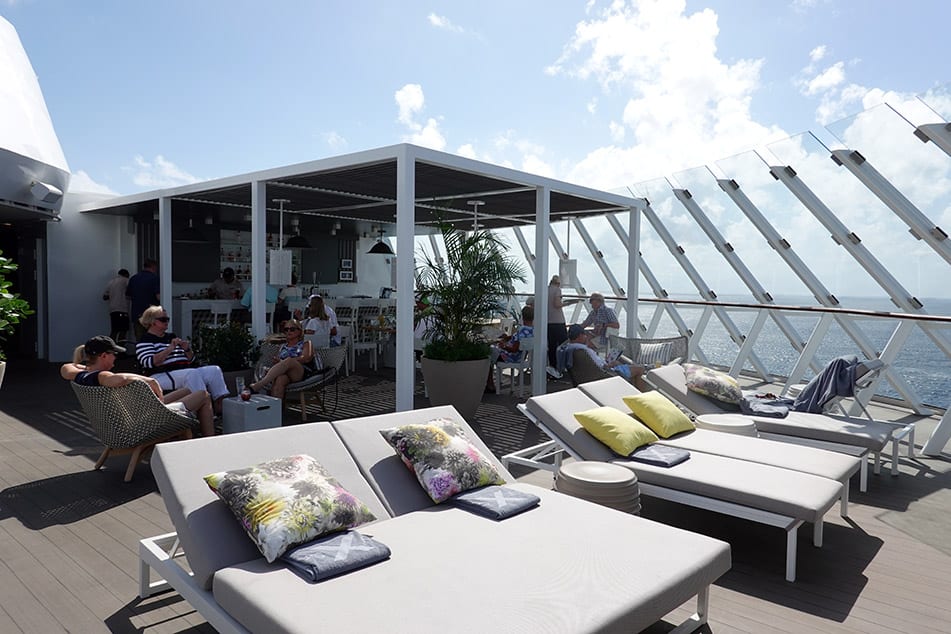 For those who love to sunbathe and hate fighting for lounges near the main pool, the Retreat is a perfect solution. There was never a day when all the lounges were filled. In fact there were always a large number of available lounges. The Retreat is quieter and more tranquil than the main pool offering a true escape from the noise and crowd.
A few decks down, you find Luminae – the upscale suites only restaurant. With twice the number of suites on the Edge versus Solstice Class ships, Luminae is larger but more elegant. Because it is larger and does not have the room divider found on Solstice Class ships, it is louder and a bit less intimate. The food quality which has always been exceptional has been elevated even higher. Since Luminae is now several decks away from the main dining rooms, you can no longer choose to order items from the main dining rooms menus. This was a disappointment to many Luminae guests.
All of these offerings equal a huge boost in the value of booking suite staterooms. Whether you book one of the larger suites or an affordable Sky suite, the suites package truly elevates your vacation experience. Consider giving it a try or call us to learn more about why we always select a Celebrity suite and recommend Celebrity suites to our clients.
So how to choose the right vacation for you?
Vacations are an investment! With literally thousands of options, choosing the right vacation and the best value is difficult to sort through. That's where I bring my 12 years of travel experience and expertise to do this right, and get you the best value for your money. With the backing of the largest travel consortium behind me, we have options you can't find online. Plus our work just gets started once we book your dream vacation. Chat with us to learn more.
The world awaits you and we look forward to assisting you in choosing the exact right adventure on the waters or land for you and your companions!
Let's chat and find the right vacation for you.