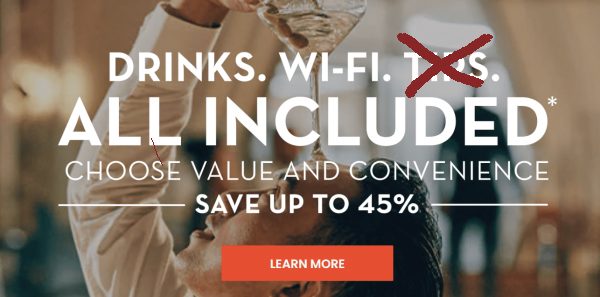 UPDATED October 4, 2023 – Celebrity has changed its promotion once again. Now its "All-Included" package includes ONLY the Classic Beverage and Basic WiFi. No longer are gratuities, nor onboard credits (OBC) included. All guests, including suites, will now have to pay gratuities. Celebrity claims it will lower prices to reflect dropping these benefits, and that it will be cheaper for guests in the long run. However, the consensus of reviewers has been that this is not always the case.
From our perspective, Celebrity is cheapening its brand and irritating its loyal clientele. For years Celebrity tried to promote itself as modern luxury, but as Celebrity continues to cut costs and appeal to cruisers seeking bare-bones fares the way Royal Caribbean, Carnival and Norwegian do, it only diminished the line's brand. This is encouraging many guests to look and experience other lines which offer a more inclusive and more upscale cruise experience.
UPDATED January 2023 – Celebrity boasts about its "Always Included" program, which we love, and so do our clients. However, for months, when you go to the Celebrity website, you'll see them advertise "Drinks. Wifi. Tips All Included." However,  the prices advertised on their site don't include anything but the bare-bones fare – no wifi, no drinks package, and no gratuities. This is disappointing and upsetting to guests who don't realize what they are purchasing.
While you might be accustomed to Celebrity's advertised rate as including all the perks, for the foreseeable future, double check. Don't get surprised or disappointed.
---
Original article:
Celebrity Cruises has announced a new approach to cruising called 'Always Included,' putting an end to confusing promotions, complicated add-ons and limited time offers.
Starting Tuesday, Nov. 17th, every Celebrity Cruises vacation will include Wi-Fi, drinks and tips, simplifying the luxury vacation experience.
"Everything we do at Celebrity is driven by the desire to redefine what today's luxury looks and feels like, with experiences modern travelers want. With the launch of our Edge Series ships, Celebrity Edge and her brand-new sister ship Celebrity Apex, we tapped into a powerful 'New Luxury' culture – relevant, relaxed, design-focused and inclusive," said Lisa Lutoff-Perlo, president and CEO of Celebrity Cruises. "Today, nothing is more luxurious than when things are extra simple and extra special. We wanted to bring that big wonderful feeling of 'everything is taken care of' to life for our guests."
"After this challenging year, ease and peace of mind have become even more invaluable commodities," said Peter Giorgi, vice president and chief marketing officer of Celebrity Cruises. "People want to spend more time being inspired, not getting lost in a myriad of booking options. Our new 'Always Included' approach makes the purchase process simple and incredible – one decision and the wonder of a Celebrity cruise awaits."
"Always Included" becomes the new standard rate for the luxurious experience offered on Celebrity's award-winning ships and includes:
– Unlimited Drinks – Classic cocktails, wines by the glass, beer, sodas, specialty coffees and teas, juices and bottled water can be fully enjoyed without worrying about the tab.
– Unlimited WiFi – Free, always-on connection to social media, email and the web, allows guests to surf the net to their heart's desire.
– Daily Gratuities – Tips are taken care of allowing guests to relax and enjoy the warm service delivered by Celebrity's exceptional crew, knowing that the crew behind the superior service are also being taken care of.
All guests in The Retreat – Celebrity's unparalleled vacation concept featuring stunning all-suite accommodations and all-exclusive experiences including a private restaurant, lounge and sundeck, and a dedicated team of butlers and concierge staff – will receive the same amenities as the INDULGE package at no additional charge.
"Always Included" is the latest in a series of innovations available on Celebrity ships, including the recent transformation of the traditional cruise industry safety drill into a more personal digital experience, called Muster 2.0, which can be accessed by guests from any smart device or on a stateroom TV and completed at the guest's leisure prior to the ship's departure, providing more time to relax and ease into a wonderful getaway. "Always Included" is available for all new bookings on any of Celebrity's cruise offerings, excluding Galapagos vacations. As part of its new approach, Celebrity has al
Frequently Asked Questions (FAQ)
Q. #1: Our new Pricing Strategy is called Always Included. Does it replace Sail Your Way?
A: Yes, Always Included will begin on November 17th, 2020.
Q. #2: What is Always Included?
A: It is our new pricing strategy, which includes three amenities (Tips, Surf Wi-Fi and Drinks, Classic Beverage Package) in your cruise fare, with the ability to upgrade amenities with the purchase of Elevate or Indulge package. All guests are eligible to receive Tips and Drinks, and 2 device Wi-Fi logins will be provided per stateroom.
Q. #3: Is Always Included a long term change in pricing strategy or just for November 2020?
A: This will be a long-term change in pricing strategy, not a promotion, therefore no booking window.
Q. #4: Why the change from Sail Your Way?
A: Vacations should be effortless from the start. That's why every Celebrity cruise base rate will now include drinks, Wi-Fi, and tips.
Q. #5: Is Always Included applicable to existing bookings made prior to November 17, 2020?
A: Yes, both new and existing bookings are eligible to participate at prevailing rates.
Q. #6: Will there be Refundable and Non-Refundable Fares for Always Included?
A: Yes, Refundable and Non-Refundable deposit pricing will be available for Always Included as well as the new Elevate and Indulge Packages and for The Retreat.
Q. #7: Do the Non-Refundable Fares apply to new bookings made inside final payment?
A: Non-Refundable deposit offers are applicable to sailings within final payment, however full deposit is due at time of booking.
Q. #8: Will Always Included apply to all stateroom categories?
A: Yes, it is applicable to all stateroom categories, including The Retreat.
Q. #9: What is the cost to upgrade from Always Included to Elevate or Indulge?
A: To upgrade from Always Included to Elevate is $30 per person per day. To upgrade from Always Included to Indulge is $60 per person per day.
Q. #10: Will the Always Included package prices change with currency fluctuations?
A: All package prices will have a static exchange rate for each per day price correlating to the currency of the booking. Package pricing in currency will not fluctuate.
Q. #11: What is the retail value of the amenities?
A: The approximate per person, daily retail value for a Veranda stateroom on a 7-night sailing is as follows:
•Always Included – Wi-Fi, Drinks, and tips of $89.50 per day per person
•Elevate – Wi-Fi, Drinks, tips and OBC of $120.90 per day per person
•Indulge – Wi-Fi, Drinks, tips and OBC of $$140.90 per day per person
Q. #12: Is the Onboard Credit (OBC) a set amount or does it vary by sailing?
A: The OBC will be issued per person to all guests in the stateroom and is tiered by length of sailing.
•Elevate – $100 1-5nights; $150 6-9 nights; $200 10 nights or more
• Indulge- $200 1-5nights; $300 6-9 nights; $400 10 nights or more
Q. #13: Which itineraries are applicable for Always Included?
A: Applicable to all sailings, excluding Galapagos.
Q. #14: What if I don't want to pay gratuities on my cruise?
A: We are sure you will want to recognize the great service that our crew members provide but if you have any specific concerns about an aspect of our service during your vacation please visit the Guest Relations desk.
Q. #15: Can guests request a non-alcoholic drinks package if an individual guest does not drink alcohol or is under the legal drinking age?
A: Our beverage packages include a wide variety of alcoholic and non-alcoholic options including specialty coffee, fresh squeezed juices, bottled water, sports drinks and soda. All guests can choose beverages of their choice, with or without alcohol. Guests under the legal drinking age will only be eligible for non-alcoholic beverages.
Q. #16: Do I need to tip onboard for beverages?
A: Beverage Gratuities are included for any Classic or Premium Beverage Package as provided within Always Included, Elevate or Indulge.
Q. #17: How can a guest upgrade from classic beverage package to premium beverage package when they book the Always Included package?
A: If a guest books their cruise with Always Included package pricing and would like to upgrade their Classic Beverage Package to the Premium Beverage Package, they may do so via our Cruise Planner platform once their booking is within final payment. The upgrade charge will be $12 per person per day which includes the beverage gratuity. Guests may not purchase a beverage upgrade before final payment when they book Always Included. Alternatively, guests may
also upgrade their beverage package from Classic to Premium once onboard the ship.
Q. #18: Will Single guests be charged double the supplement, if so, will the extra amount be refunded later?
A: Yes, Single guests will be charged double the per day amount for either the Elevate or Indulge package. Single guests will receive double the amount of corresponding Onboard Credit; however, the Beverage and Wi-Fi packages will not be doubled as these amenities are provided per person. There will not be a refund for the unused packages.
Q. #19: Can Third & Fourth Guests purchase additional internet packages?
A: Additional guests in the same stateroom will be able to purchase an internet package pre-cruise via our Cruise Planner platform or once onboard the ship.
Q. #20: Do all guests in the stateroom have to upgrade to Elevate or Indulge or can only guest one or two choose the package but not guests three or four?
A: If a booking is made with Always Included package pricing all guests in the stateroom will receive the package amenities and will be booked with Always Included package pricing. If one guest in the stateroom chooses to upgrade to the Elevate or Indulge Package, all guests in the stateroom must also upgrade and choose the same package.
Q. #21: Can FCCs from GSS or CWC be used to pay for the Elevate or Indulge package?
A: All FCC types may be used to pay for Always Included cruise fares including upgrades to Elevate or Indulge packages as these are classified as part of the cruise fare. FCCs may be applied to the reservation cruise fare only, not including taxes, fees, insurance, transfers, air or Move Up upgrade bids.
Q. #22: Do Retreat guests automatically receive the "Indulge" package for new bookings?
A: Yes, Retreat guests will automatically receive the Indulge package at no additional charge.
Q. #23: Are existing Retreat guests grandfathered in for the "Indulge" package?
A: Guests booked in the Retreat with Sail Your Way pricing will receive the four original amenities established for the Retreat including a Premium Beverage Package, Unlimited High-Speed Internet, Prepaid Gratuities and $150 per person Onboard Credit. In order to receive the Indulge Package amenities associated with Always Included, the booking must be converted to prevailing rates.
Q. #24: If a guest books Always Included and sometime later decides they want to add on the Elevate or Indulge package, will they have to shift to prevailing rate, or will we protect the original Always Included rate they booked at?
A: If a guest would like to upgrade from Always Included to the Elevate or Indulge package after the original booking is made, their reservation will be converted to prevailing Always Included pricing on the day the package is added.
Q. #25: Will guests who booked onboard be allowed to convert their booking to Always Included and keep their onboard booking benefit?
A: Yes, guests who book onboard will be permitted to convert to Always Included pricing at prevailing rates and continue to keep their onboard booking benefits.
Q. #26: Does the Best Price Guarantee still apply?
A: Our Cruise With Confidence program will apply to all existing and new bookings made prior to November 30, 2020. For Bookings made after this time our original Best Price Guarantee terms will apply.
Q. #27: What is Simply Sail? When is it available?
A: Simply Sail will offer a cruise-only rate for select sailings within 90 days of departure. Simply Sail will replace Exciting Deals with a new creative look and feel but maintain the same offering parameters.
Q. #28: How many back-to-back cruises can be booked?
A: At this time there is no set limit to the number of Back to Back cruises a guest may book.
Q. #29: Will Always Included be combinable with the "Move Up" program?
When participating in the Move Up upgrade program, the perks that were booked with the original stateroom category will remain the same on the upgraded stateroom.
Q. #30: Will we be offering "Always Included" on new deployment when it opens?
Yes, as Always Included is our new pricing strategy all deployment and future deployment will be eligible to book this pricing.
So how to choose the right vacation for you?
Vacations are an investment! With literally thousands of options, choosing the right vacation and the best value is difficult to sort through. That's where I bring my 12 years of travel experience and expertise to do this right, and get you the best value for your money. With the backing of the largest travel consortium behind me, we have options you can't find online. Plus our work just gets started once we book your dream vacation. Chat with us to learn more.
The world awaits you and we look forward to assisting you in choosing the exact right adventure on the waters or land for you and your companions!
Let's chat and find the right vacation for you.