Overview
Welcome to our definitive guide to Regent Seven Seas cruises. Regent is an ultra-luxury cruise line and is part of the Norwegian and Oceania family.
Regent Seven Seas Cruises redefines the meaning of luxury, providing an unmatched experience that goes beyond the typical parameters of ultra-luxury cruising. Unlike other luxury cruise lines, Regent stands out with its unique approach to cruise travel, catering to those who value exclusivity, yet desire a relaxed and comfortable atmosphere.
One of the standout features of Regent Seven Seas is its relaxed dress code. While many luxury cruise lines have strict formal dress codes, Regent embraces a more casual elegance. Here, formal nights are optional, providing guests with the flexibility to dress comfortably. Whether you want to don your finest attire or prefer to enjoy your evening in smart casual wear, the choice is yours. This relaxed approach to formal wear provides a refreshing change from the conventional norms of luxury cruises and fosters a relaxed, welcoming ambiance on board.
However, the true game-changer that sets Regent Seven Seas apart from its competition is its genuinely all-inclusive pricing. Where other cruise lines claim to be all-inclusive, often they exclude certain amenities, services, or experiences. Regent Seven Seas, on the other hand, provides a truly all-inclusive experience. From unlimited shore excursions, fine wines, and spirits, to gourmet restaurants, WiFi, and even valet laundry services—everything is included in your fare. There are no hidden fees or unexpected charges, allowing you to relax and enjoy your journey without worrying about the financial aspects.
Regent is more affordable than you might think
Sometimes I hear clients say Regent is too expensive. That's when I ask them to pull out a piece of paper. Then I ask, how much do you usually pay for an alcohol drink package? How much do you pay for Wifi? Do you have to pay for gratuities at the end, if so how much is that? What do you typically pay for airfare? How much is that hotel prior to the cruise? How much do you pay for shore excursions? When you add all of that up, you are pretty close to the cost of a Regent cruise.
If you want to reduce the fare and make your own air reservations, that is an option and you'll receive an air credit on your cruise fare. Give us a call before you think Regent is too expensive. You might be surprised. I recently priced a Celebrity 7-night Caribbean cruise in a Sky Suite (Celebrity's smallest suite) it cost $11, 296.80. For a similar 7-night Caribbean cruise, Regent was $8,989.00 for a Superior suite, and it includes shore excursions. Does this happen all the time? No, but it is worth checking. So dig into the numbers, you might find Regent the better option.
Take a look at these comparison charts of Regent's pricing versus the others:
Should you choose Regent Cruises
Yes, if you want/value
A warm casual environment, formal nights are optional
All-inclusive pricing (not including the spa/salon):

Shore excursions in most ports
Premium alcohol
Wifi
Economy air domestic; business air international

​All suite ships
All suites have balconies
Rich interiors and exceptional cuisine
Intimate smaller ships with fewer passengers (~750 guests)
Traveling with children
No, if you want/value
​Smoke-free environment – smoking is allowed in the Connoisseur bar and designated outdoor areas
A flashy high energy evening scene
Most guests participating in Formal Nights
Tips
More than 450 destinations
Complete all-inclusiveness of Regent enhances the "socialness" of Regent cruises
Free 24-hour room service will deliver full dinners, served course by course
Single guests can pay single supplements as low as 25% on select cruises
Regent includes unlimited free shore excursions in each port
Enjoy musical reviews and acrobatics with rock music in the theatre
Free unlimited valet laundry
YOUR ONBOARD EXPERIENCES
​SPECIALTY RESTAURANTS – no extra charge
On Regent, all the restaurants are specialty restaurants, however, unlike many other ultra-luxury cruise lines there is no extra charge on Regent Seven Seas. Seating is open, but reservations are recommended for Prime 7 and Chartreuse. Not all restaurants are on every ship.
Prime 7 – An intimate and elegant American-style steakhouse. All the traditional starters are here, including Jumbo Lump Crab Cakes, Classic Steak Tartare, and Clam Chowder. Of course, beef is the undisputed star, and it is all USDA Prime and Dry-Aged at least 28 days to ensure the ultimate tenderness and juiciness. Prime New York Strip, Porterhouse Steak and succulent Filet Mignon only touch upon the selections. Mouthwatering alternatives include Applewood Smoked Salmon and Dover Sole. Reservations are recommended.
Chartreuse – Experience chic French fare with a modern twist. Reservations are recommended.
Pacific Rim – Explore the perfect balance of pan-Asia delicious flavors and the Zen-like ambiance.
La Veranda – Take in stunning ocean views while enjoying elegant breakfast and lunch buffets in the chic indoor dining room or al fresco on the shaded, open-air deck.
Sette Mari at La Veranda – Each night La Veranda transforms into Sette Mari at La Veranda across our fleet, bringing you a delicious dinner menu of authentic Italian specialties and fine wines.
Compass Rose – Regent's largest specialty restaurant features exquisite selections, a multitude of choices, and the ability to customize your meal.
Pool Grill – Enjoy a casual lunch on every ship, from delicious regional barbecues to the freshly grilled fish of the day.
Room Service – Enjoy delectable appetizers, main courses, and desserts in your suite 24 hours a day. During dinner hours, delight in ordering dishes made to your exact taste from the expansive Compass Rose menu.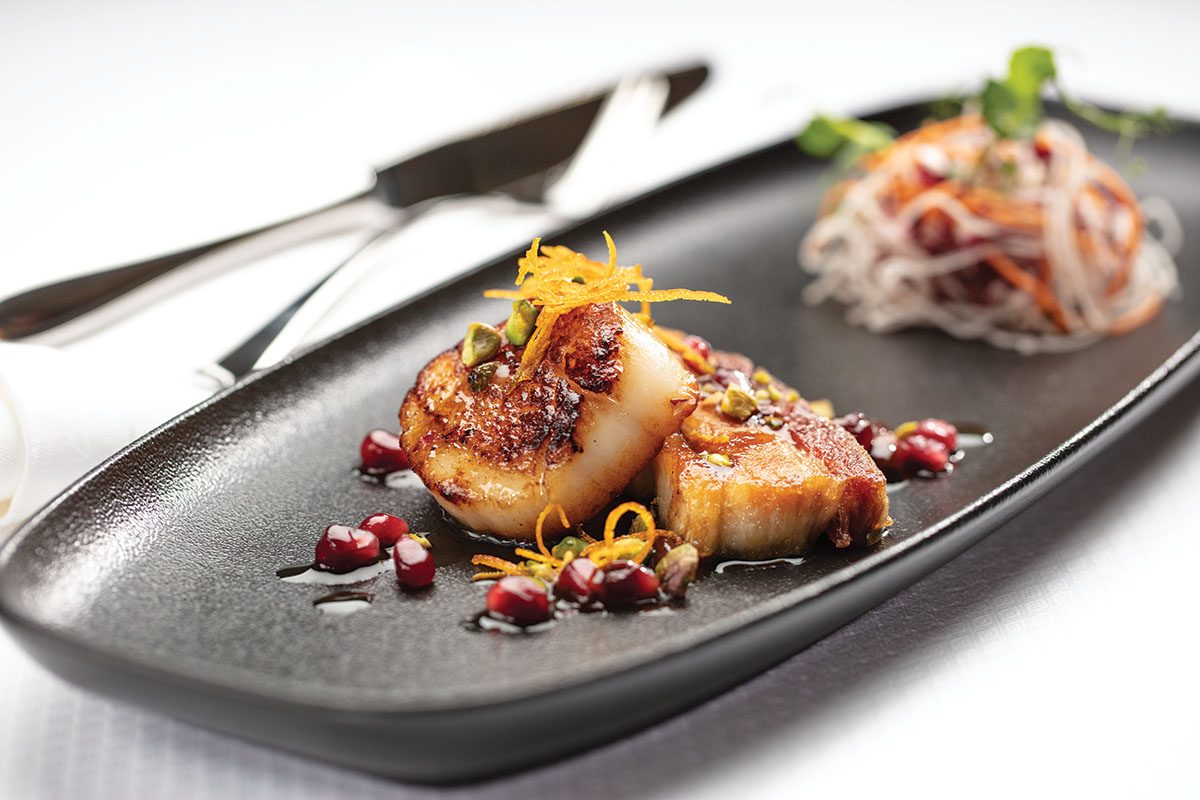 BEVERAGES
Regent's all-inclusive fares include wines, champagnes, premium spirits, beers, specialty coffees, soft drinks, and daily-refreshed suite refrigerators/bars.
ENTERTAINMENT
Entertainment venues may vary by ship with as many as five bars and lounges to choose from.
Evenings are more lively than on other cruise lines. Entertainment ranges from musical reviews to singers, and musicians in lounges. Venues include:
Constellation Theater – This main show lounge features performances from full-scale musical reviews to cabaret shows and Regent's five-piece orchestra.
Horizon Lounge – This is the largest bar onboard. The lounge has a dance floor where the Regent Orchestra or guest musicians perform.
Observation Lounge – During the day it's quite a comfortable space to read, relax and enjoy a cocktail. During the evening, you'll find easy conversation between travelers sharing their experiences about their time ashore.
Voyager Lounge – An intimate lounge ideal to meet friends before dinner or for a nightcap in the evening. Night owls gather here to dance into the night or maybe sing along in a karaoke competition.
Pool Bar – Its circular bar is perfect on warm days. From frozen drinks to indulgent mudslides to craft beers, every order is met with flair.
Connoisseur Club – Sip a fine cognac, engage in friendly conservation with fellow travelers or savor the aroma of an imported cigar from the humidor.
ENRICHMENT
Guest Lectures: Regent Seven Seas offers a variety of expert-led lectures onboard their ships. These lectures can cover a wide range of topics, from the history of the regions being visited to cultural and natural aspects of these regions.
Winemaker Dinners: For wine enthusiasts, Regent Seven Seas holds special winemaker dinners. These dinners are paired with a selection of wines and led by knowledgeable sommeliers, offering a unique dining experience onboard.
Tea Time: A beloved tradition on many cruises, Regent Seven Seas offers elegant afternoon tea. This event includes a variety of teas served with bite-sized sandwiches, scones, and pastries.
Culinary Demonstrations: For those interested in cooking, there are culinary demonstrations where you can learn from the ship's expert chefs and elevate your culinary skills.
Block Parties: Regent Seven Seas holds unique block parties where guests can meet and socialize with their neighbors and the ship's crew.
Social Events: From festive-themed nights to special celebrations, there are a variety of social events that take place on the cruise.
Arts & Crafts: Guests can embrace their creative side with arts and crafts sessions where they can create their own masterpieces.
Trivia & Games: For those who enjoy a bit of competition, there are trivia and game sessions where guests can test their knowledge against others.
Bridge: Regent Seven Seas offers bridge games with American Contract Bridge League-certified instructors, allowing guests to enjoy this classic card game onboard.
Dance Classes: Guests can learn new dance moves with classes that range from ballroom to Latin and specialty-themed dance classes.
​FELLOW GUESTS
Guests are mostly couples, sophisticated and affluent with an average age of 55. On shorter cruises and those in the Caribbean, you'll find some guests in their 30s & 40s. On longer cruises and European cruises, the average age will be higher as is normal for all cruise lines. Most guests will be from North America.
SPA & FITNESS CENTER
You can enrich your cruise experience with Serene Spa & Wellness,™ a globally inspired, tranquil haven of health, beauty, and wellness. Relax and restore aching muscles, moisturize and rejuvenate your skin, and both strengthen and elevate your body and mind as you engage with a variety of treatments and services designed to enhance your whole being.
Services include:
Body & Beauty – A holistic array of treatments and services have been thoughtfully developed to promote mental and physical rejuvenation. Indulge in massages, body wraps, facials, manicures, hair services and more, including exclusive treatments. These services are available for an additional fee.
Physical Fitness – The fitness center offers a variety of ways to stay fit at sea. With a wide range of equipment including spinning bikes, dumbbells, treadmills, Technogym Strength Machines, workout mats, and step benches, guests can engage in self-guided workouts or join group classes such as Pilates, yoga, and aerobics.
Jogging Track: For those who have a regular walking or running routine, the jogging track offers dramatic views and fresh air, ensuring your healthy habits can be maintained while cruising​.
Healthy Cuisine: Enjoy the best of world cuisine wherever you're sailing with Serene Spa & Wellness™ Selections. These dishes are not only flavorful but also nutritious. An extensive array of innovative options is available across the fleet, featuring dishes influenced by global fares, including truly innovative plant-based cuisine​.
Mindful Living: The spa also promotes mindful living with a blend of offerings designed to balance both body and mind. Treatments like functional stretching, reflexology and meditation are available to help you achieve new levels of peace and harmony as you travel​.
Wellness Tours: Serene Spa & Wellness™ Tours are curated excursions designed to enhance wellness through immersive experiences. These tours invite guests to embrace the peace and wonder found in some of the world's most incredible destinations.
DRESS CODE
Regent Seven Seas offers a more casual cruising experience than most of its competitors, and we welcome this. While you can choose to dress up in formal attire for OPTIONAL Formal and Semi-Formal evenings on sailings of 16 nights or more, it is not required.
Casual wear (daytime)
Casual wear is appropriate for daytime aboard the ship or ashore, and consists of standard sports outfits as worn at resorts. Shoes should be flat or low heeled for deck activities.
Evening attire (after 6:00 pm)
Evening attire is "Elegant Casual."  Dress for ladies includes a skirt, or slacks with a blouse or sweater, a pantsuit or dress; slacks and a collared shirt for gentlemen. Sport jackets are optional. Casual wear is not to be worn at dinner. Ties are not required.
Optional Formal nights
On sailings of 16 nights or more, Formal and Semi-Formal attire is optional on two of the evenings. On the two Formal Optional evenings, guests are welcome to dress as per the elegant Casual dress code or opt for a more formal choice of clothing including gowns and cocktail dresses for ladies; tuxedos, dinner jackets or dark suits with tie for gentlemen.
GRATUITIES & TIPPING
All gratuities are included in your fare.
​An 18% gratuity is automatically added to spa and salon purchases.
WIFI/INTERNET
Free WiFi is provided to all guests on Regent unlike some other luxury cruise lines.
Still have questions about Regent Seven Seas Cruises.
Just give us a call or schedule a phone chat, and we'll help you find your dream vacation.
So how to choose the right vacation for you?
Vacations are an investment! With literally thousands of options, choosing the right vacation and the best value is difficult to sort through. That's where I bring my 12 years of travel experience and expertise to do this right, and get you the best value for your money. With the backing of the largest travel consortium behind me, we have options you can't find online. Plus our work just gets started once we book your dream vacation. Chat with us to learn more.
The world awaits you and we look forward to assisting you in choosing the exact right adventure on the waters or land for you and your companions!
Let's chat and find the right vacation for you.