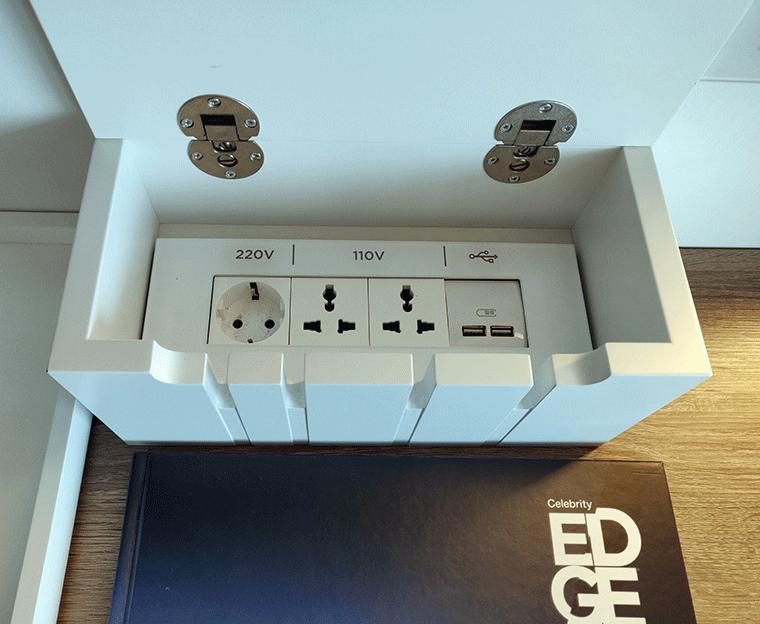 MORE POWER OUTLETS FOR YOUR GADGETS
s we use more and more gadgets, our need for additional sources of power grows. The limited number of power outlets on cruise ships has been a problem for years. The Celebrity Edge helps to address these needs with additional outlets throughout the stateroom. The decorative power box shown above gives you access to two 110 outlets and two USB power plugs for smartphones. Additional outlets and USB plugs were bedside in our Celebrity Suite.
TOUCHSCREEN CONTROLS LIGHTS & CURTAINS
The Edge also features touchscreens to control lights, curtains, and your thermostat – with presets for morning, evening, and night.  In addition to the in-room touchscreen control, you can use your smartphone for more refined control of individual lights in your stateroom.  The touchscreens don't provide individual light controls, which was a bit disappointing.
Your smartphone can even be used to unlock your stateroom door, although we found it more convenient to use the stateroom card.​
LARGER ELEVATORS WITH TOUCH PANELS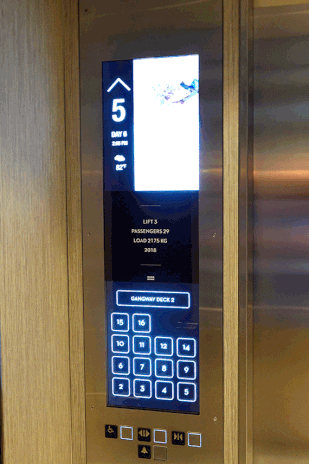 Elevators have been one of the Achilles heels on ships. Who hasn't waited for an elevator after a show only to have it open full of guests. The Edge hopes to minimize this problem with new sensors in the ceiling of its elevators. These sensors detects when it is full, and then it skips stopping at floors until space is available. These sensors weren't working yet on our cruise, but should be working soon. The Edge's elevators are significantly larger than on the Solstice Class ships. In addition, they use touch screens rather than individual buttons. By using a programmable touchscreen, prominent messages can help guide guests to the proper floor for port tenders or other special events.
EVEN THE TENDERS GO HIGH TECH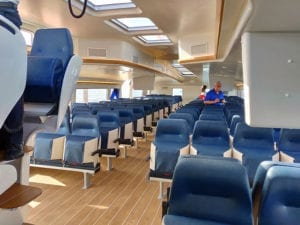 The tenders on the Edge are sophisticated and pretty luxurious. With individual seats, air conditioning, and higher ceilings, the tenders are very comfortable. In addition they have multiple display screens for safety and port information.
SIMPLIFIED CHECK-IN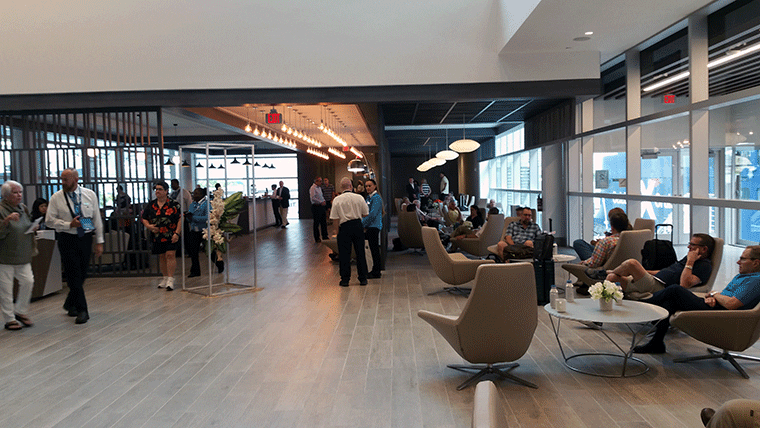 By encouraging guests to pre-register online, the boarding process on the Edge is much simpler. Suites guests are greeted as they enter the new terminal and taken to a special suites lounge. There you are asked to take a seat, enjoy a cocktail and continental breakfast until a customer service agent comes by to take your picture. Once that's done, you can board the ship – no lines, no forms to fill out, no paper to take with you – just board the ship. You can go directly to your stateroom to drop off you bags and pick up your stateroom keys.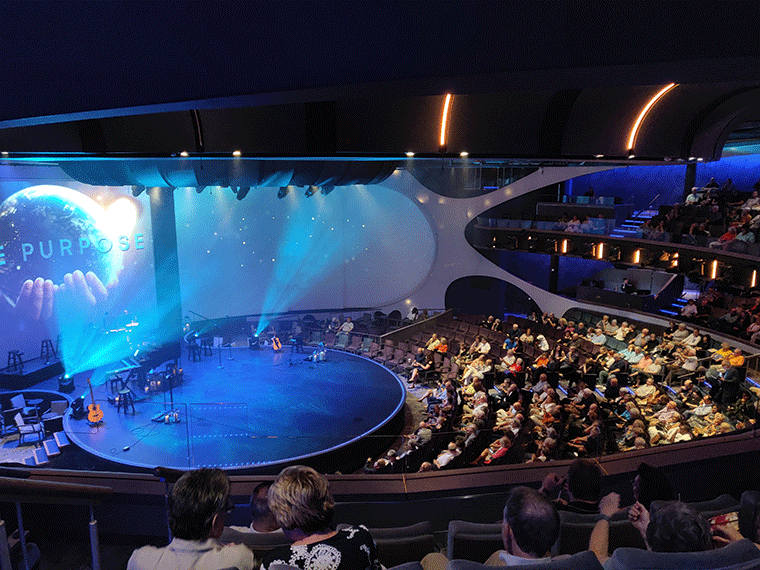 HIGH TECH THEATRE
Nowhere has technology been taken to a higher level than in the theatre. The stage itself juts out into the audience making performances more intimate. Behind the stage is a panoply of projection screens which provide backgrounds for performances  and can move as needed.  Plus the stage has all the bells and whistles – it can be raised and lowered, ropes and hooks from the ceiling allow aerial performers to show off their skills, a motorized water fountain rolls out for special effects, and a very powerful sound system are just some of the technological features which will dazzle guests.
With the Edge, Celebrity made a very intentional effort to revolutionize the cruise experience. Technology was one of the cornerstone of this effort. There are many other examples in addition to what we've covered here. They did a good job of integrating new technology to enhance the cruise experience for guests.
So how to choose the right vacation for you?
Vacations are an investment! With literally thousands of options, choosing the right vacation and the best value is difficult to sort through. That's where I bring my 12 years of travel experience and expertise to do this right, and get you the best value for your money. With the backing of the largest travel consortium behind me, we have options you can't find online. Plus our work just gets started once we book your dream vacation. Chat with us to learn more.
The world awaits you and we look forward to assisting you in choosing the exact right adventure on the waters or land for you and your companions!
Let's chat and find the right vacation for you.