Silversea Cruises is developing a new culinary enrichment program that will be launched with the delivery of the Silver Moon in August 2020.  The program is called SALT which stands for "Sea And Land Taste" and was developed with Adam Sachs, an award winning journalist and former editor of Saveur food magazine.
A CULINARY ENRICHMENT PROGRAM
​S.A.L.T. Kitchen will be a new restaurant on the Silver Moon where guest will be served regional menus for all meals.  While S.A.L.T. Kitchen will spotlight local foods and flavors from the areas where the ship is visiting, the SALT program goes beyond by tying in with complimentary land-based excursions to local farms and restaurants, and onboard activities such as regional cooking classes and demonstrations featuring local chefs and lecturers.
Indian Spice Market
Adam Sachs said, "There's no better—or more enjoyable—way to engage and understand the world than through the flavors and stories of its food and wine culture and the people and personalities behind it."
Barbara Muckermann, Silversea's chief marketing officer said the program has been under development for about two years. On a recent cruise from Indonesia to the Philippines, she treated journalist to an example of what a SALT excursion might look like. Guests toured a rice paddy and learned about farming, then enjoyed a lunch sponsored by a local butcher affiliated with a locally renowned restaurant while slipping Balinese drinks.
The goal of SALT is to bring destinations to life through the exploration of food. There will even be a new bar called S.A.L.T. Bar which will offer locally inspired spirits, wine, beer, and cocktail from the local region.
​SALT varies based on local food offerings & diversity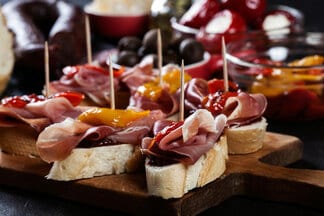 Spanish Tapas
​The program will ebb and flow based on the ship's location and the degree to which it makes sense. Where there is a strong and distinct local flavor and cuisine, the program will be at its peak.  When in Iberia, the focus will be on Spanish food and tapas. While in Indonesia, Balinese cooking will be featured. However, when it is in polar regions which do not have a strong culinary perspective, the program will be less robust.
​A reach out to Baby Boomers & acknowledgement of changing demographics
The SALT program is part of a larger effort we are seeing to re-position the luxury cruise market to attract Baby Boomers who would like to move into the luxury market but are more experience oriented than the Silent Generation that preceded them. In addition to Silversea Cruises, other luxury lines, such as  Seabourn Cruises, are actively trying to attract a younger demographic and are jiggering their onboard experiences to pull them in. This also falls in line with Celebrity Cruises new direction with its new Edge Class ships to appeal to and pull in more Millennials. (Both Silversea Cruises and Celebrity Cruises are controlled by Royal Caribbean Cruises.)
​DEPLOYMENT OF SALT WITHIN SILVERSEA
After the Silver Moon, S.A.L.T Kitchen. will be found on the Silver Dawn launching in 2021, and on the Silver Evolution launching in 2022 as the first vessel in a new class. While the Silver Muse will likely be updated with SALT, smaller ships with fewer specialty dining venues probably will not.
Want to learn more about culinary programs on upscale cruise ships?
So how to choose the right vacation for you?
Vacations are an investment! With literally thousands of options, choosing the right vacation and the best value is difficult to sort through. That's where I bring my 12 years of travel experience and expertise to do this right, and get you the best value for your money. With the backing of the largest travel consortium behind me, we have options you can't find online. Plus our work just gets started once we book your dream vacation. Chat with us to learn more.
The world awaits you and we look forward to assisting you in choosing the exact right adventure on the waters or land for you and your companions!
Let's chat and find the right vacation for you.