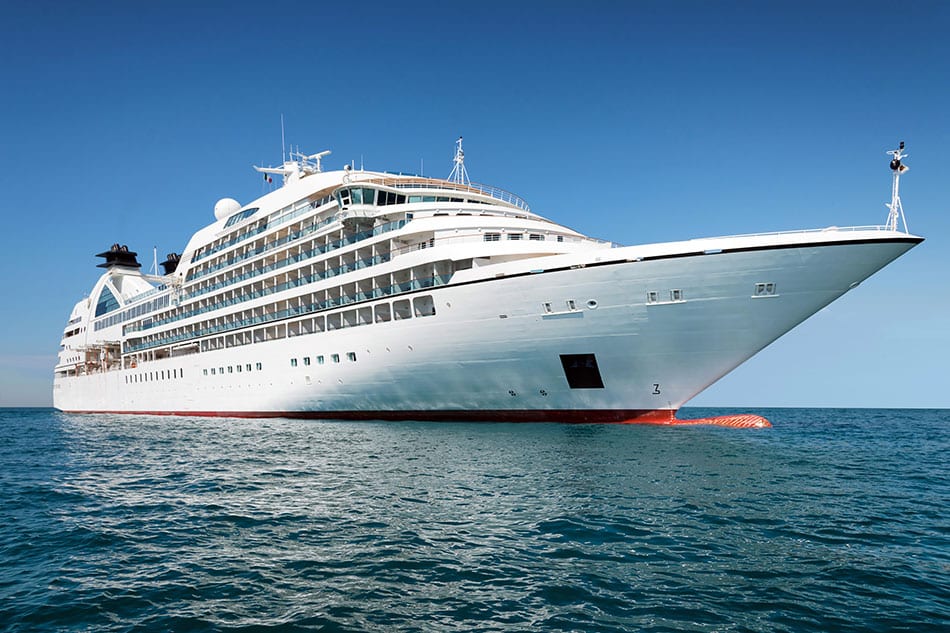 The luxury cruise market is changing. It is becoming younger, more active and adventurous, offering access to new exotic destinations, and delivering the service and quality they are know for on brand new elegant and sophisticated purpose built ships.
1) GROWING MARKET
As cruising has become more mainstream, more and more cruisers are moving up to the luxury cruise market. Most started with the mass market cruise lines like Carnival, Norwegian and Royal Caribbean and then moved to the premium lines like Holland America and Celebrity. Now these experienced cruisers are now looking for more.  They want a higher level of service, elevated cuisine, better quality, and a more sophisticated cruise experience – and they are willing to pay for it.
2) OFFERING THE BEST VALUE FOR THE PRICE
Experienced cruisers have learned over time that the cost difference isn't as much as they thought! Luxury cruise lines' entry level pricing is comparable to similar suite levels in premium cruise lines, especially when total bottom-line cruise costs are compared – no extra charges for pre-paid  gratuities, no charges for alcoholic drinks or premium coffees or sodas and their 18%+ automatic gratuity, no up-charge for specialty restaurants, or no daily fee for WiFi. They've learned that all of these extras can double the cost of a cruise.
But price isn't the driver here. It's the extra services and their level of quality, the five-star onboard cuisine, the more elegant atmosphere onboard, and more sophisticated fellow passengers that have sold them on, and keep them coming back, to luxury ships. Luxury ships offer the best value for their money (balancing the quality and service they want on a cruise versus price). In fact, once most people try luxury level cruising they don't go back.
The sophisticated cruiser wants to forget the water slides and bumper cars, crowded pool decks, and just average food. They aren't looking for gimmicks. They are rethinking cruising. For them the ship is a vessel to take them to new exotic destinations which offer experiences they've only dreamed of (or maybe hadn't even though of before talking with us).  But they want to do this knowing that at the end of the day, there is a luxurious stateroom where they'll be pamper by the highly trained professional staff.
3) ATTRACTING A YOUNGER DEMOGRAPHIC
Over the last several years, the average age on luxury lines has decreased. Several lines like Seabourn Cruises are catering to a younger chic and sophisticated clientele. The launch of several new luxury expedition ships targets this younger and active demographic. With the average cruise age now down to 46 overall, the luxury market now ranges from around 45 years and up, with a good mix of 40s and 50s along with older passengers.
One of the attractions of luxury lines is the fellow passenger. These guests have been successful in life, have traveled around the world, and want to have experiences and see places they couldn't when they were too busy. They are comfortable and sociable and enjoy talking with fellow guests.
4) SEEKING NEW EXPERIENCES & MORE EXOTIC DESTINATIONS
These cruisers are wanting something new, something exciting, and something more exotic. They've been on several cruises in the Caribbean and maybe even the Mediterranean. They want more variety and more activity. They are no longer content sitting on a beach, they want to explore and have new experiences. They love cruises but want something different.
Sensing this need, luxury cruise lines have been ordering new custom-built luxury and luxury adventure or expedition ships. Have you wanted to see the Northern Lights? Hurtigruten Cruises offers a cruise with a guarantee – see the aurora borealis or you get a free cruise. Want to see the polar regions, Ponant is building a polar class 2 ship, the highest polar class rating of any cruise ship, allowing passengers to go deeper in the polar regions to areas visited by very few.
Have you seen the Big Five (African elephant, black rhinoceros, Cape buffalo, African lion & African leopard) on a safari? An Azamara Club Cruise or Silversea Cruise stops near reserves where you can see and photograph these animals in the wild, or do a pre- or post-cruise visit to the Serengeti and stay in a luxury cottage.
Of course, a cruise of the Galapagos Islands has been a top choice for many. Celebrity Cruises just launched it new luxury expedition ship the Flora.
Aside from the luxury accommodations and destinations, what sets these cruises apart is the knowledgeable staff and renowned lecturers on these ships that give you detailed information about the destinations, giving you a more in-depth and thorough appreciation of what you'll see.
5) BEAUTIFUL, NEW ELEGANT CUSTOM-BUILT SHIPS
​When the luxury cruise industry started, most ships were re-purposed (rebuilt) ships that had sailed on other lines. The growth of the luxury market is fueling the need for greater ship capacity.  Over the last few years, the luxury lines have been ordering elegant custom-built ships – ships designed for the needs and expectations of the luxury cruise customer. About a dozen new luxury vessels are already on order, with more orders to come in the next few years.
If you've never considered a luxury cruise, let's talk. It is probably more affordable than you thought, and it will certainly up your vacation experience.
​
Have questions? Let's talk.
So how to choose the right vacation for you?
Vacations are an investment! With literally thousands of options, choosing the right vacation and the best value is difficult to sort through. That's where I bring my 12 years of travel experience and expertise to do this right, and get you the best value for your money. With the backing of the largest travel consortium behind me, we have options you can't find online. Plus our work just gets started once we book your dream vacation. Chat with us to learn more.
The world awaits you and we look forward to assisting you in choosing the exact right adventure on the waters or land for you and your companions!
Let's chat and find the right vacation for you.