About two weeks ago I was asked by Sunny Lockwood to read and review her new book "
Cruising the Mississippi
." The book was written with her husband Al and will be released in October 1, 2019 (
it is available for order on Amazon
as well as
Barnes & Noble
). I received the pre-publication copy Friday and began reading it immediately.
​For those who have wondered whether a Mississippi river cruise would be right for them, this book paints a vivid picture of Sunny and Al's cruise experience on the American Queen paddle-boat and through their stories gives you the answer to whether you'd enjoy it as much as they did.
The Gentlemen's Parlor (Courtesy: American Queen)
​Through her use of a first-person narrative, you see the ship through her eyes and feel like a trusted friend is telling you her story and giving you some expert advice. As she first steps onto the America Queen and walks through the Victorian designed interior with its Gentlemen's Card Room, Ladies Parlor and Mark Twain's Gallery you are taken back to a period reminiscent of the upper class lifestyle during the years preceding the Southern Confederacy.
​We always enjoy meeting fellow passengers and learning about their life experiences, so we appreciated that life on the American Queen is filled is filled with friendly passengers interested in sharing their stories and learning about yours. ​
Courtesy: Amazon
Each chapter in the book, whether about the ship or while in a port, offers interesting nuggets about the history of the Mississippi valley, facts about steam engines and piloting a river boat, or historical facts and tidbits about port cities and their storied past.
For instance, you'll learn about the engines that power the paddle boat, how fast it travels, and how much of the total propulsion comes from the paddlewheels. Her personal description of each port gives you an insight of what you could expect to see while also providing an overarching historical context of the South during this period. ​
For instance, in a passage about the famous New Orleans "Preservation Hall" she writes, "Here are some of the no's that make Preservation Hall unique: there is no stage; there are no microphones or speakers; there's no air conditioning. There is no bar, no bathroom, no smoking is allowed, and, as I can attest from personal experience, no comfortable seats. And in all the corners hang dusty cobwebs. But, believe me, once the music starts, none of that matters." This style of storytelling captives you, pulling you deeper and deeper into the book.
Nottoway Plantation
One of the first stops was
Nottoway Plantation
, the largest of the remaining Antebellum mansions in the south. Completed in 1859 by John Randolph, a wealthy cotton and sugar farmer, Randolph wanted to build the largest and finest mansion of the Mississippi River and he spared no expense. Encompassing 53,000 square feet of interior space spread over three floors with
64 rooms and
twenty-two exterior columns, the home is massive. It included modern luxuries such as three bathrooms with hot and cold running water and gas lightening throughout the house.
The book offers a glance back in time but looks at it with a more contemporary perspective. While in Vicksburg, she came across a portrait of a Confederate officer with a black slave standing behind him. Through the portrait she could feel the power of the officer and the emptiness of the slave. Below the portrait was a card noting "how faithful the slave … was to his kind, white master," and how the slave fully supported the Confederacy. "What a crock," Sunny writes. "Just look at his expressionless face, his empty eyes…" "I'm surprised that no one has changed the text to reflect a more realistic, more sensitive understanding of the two people in the photograph." She continues, "The … text upsets me, and I have to leave the room."
Courtesy: American Queen
​For Sunny and Al, the entertainment onboard was a true joy. Shows were replete with a Dixie Land band playing old time favorites like "Sweet Georgia Brown," the Juggernaut Jug band, and music from the 40s & 50s. During the cruise the ship's entertainers performed a medley of Broadway favorites from West Side Story, A Chorus Line, 42nd Street, and more.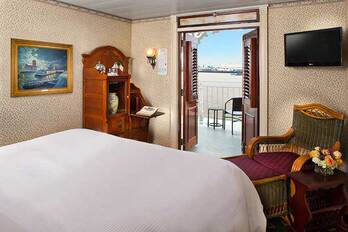 ​When we talk with new clients, we have a set of nine criteria or factors that we discuss in depth with our clients to understanding what a client values and what their expectations are so we can help them select the best cruise. These factors are accommodations, service, sociability, atmosphere, cuisine, activities, destination, entertainment and price.
The book is so well written and full of useful information that readers will get a good understanding of what the American Queen offers in terms of those nine criteria and know whether it is a good fit for them.
​
After reading the book I felt like I was an old friend of the authors who were sharing some of their life stories and experiences to help me learn and grow, and encourage me to take an river cruise on the Mississippi.
Sunny and Al share the same love and passion for travel. She writes, "Travel enriches us intellectually, emotionally, and even physically. Research finds that traveling is good for our health. It stimulates our brains and exercises our bodies. It refreshes and renews us." I couldn't say it better.
​
I encourage you to read this book if you are a history buff, a passionate cruiser, or just curious.
So how to choose the right vacation for you?
Vacations are an investment! With literally thousands of options, choosing the right vacation and the best value is difficult to sort through. That's where I bring my 12 years of travel experience and expertise to do this right, and get you the best value for your money. With the backing of the largest travel consortium behind me, we have options you can't find online. Plus our work just gets started once we book your dream vacation. Chat with us to learn more.
The world awaits you and we look forward to assisting you in choosing the exact right adventure on the waters or land for you and your companions!
Let's chat and find the right vacation for you.