This all new purpose-built ship will begin sailing the Galapagos Islands during the Summer 2020. Holding just 100 passengers, this all-suite and all-balcony luxury expedition ship will be staffed by experts certified by the National Park of Galapagos who will give guests daily presentations, lectures, and videos about the islands.
Guests will enjoy 8 Zodiacs to ensure smooth and easy access to the islands. With a high  overall passenger to crew ratio of 1: 1.16 (the best in the Galapagos) and a small 1: 10 guide to guest ratio for more intimate exploration.
Sophisticated & Modern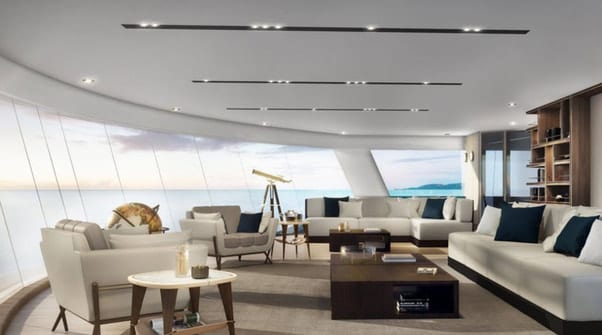 Photo: Silversea – Observation Lounge
With a warm and inviting modern Italian design aesthetic, the Silver Origin will be a welcome luxurious retreat from a day of exploration. The journey begins in the Explorers Lounge where the daily briefings and lecture take place. There are interactive displays to help educate guests prior to departing the ship via the Zodiacs. At night the Explorers Lounge is converted in a piano bar.
All suites have a balcony and are spacious. There are eight suite configurations for guests to selection from. The interior design of Silver Origin is inspired by the understated Italian elegance that pervades Silversea's fleet of intimate ships. Yet, it will also take influence from the Galapagos' unique natural environment to strengthen guests' engagement with the destination, with each space enhancing the experience. Bright, colorful motifs and regional materials will accentuate the design.
In addition the warm and intimate interiors, guests will be served authentic local cuisine prepared by expert Ecuadorian chefs. ​
Respect for the Environment
Sailing in one of the most environmental sensitive areas, the Silver Origin will be very environmentally sensitive. It will be one of only two ships that is dynamically positioned which means no anchors will be deployed which could damage the delicate ecosystem. The Silver Origin will also be plastic free. All guests will be given metallic reusable bottles with several refilling stations onboard.
Bookings will open up on May 29, 2019 for sailings starting June 27  2020.
So how to choose the right vacation for you?
Picking the right vacation is a decision with many variables: which hotel, cruise line or tour company is right for you, which destinations interest you, what are the demographics of fellow travelers, what are the service standards, what activities are available, and most importantly exactly what do you desire from the experience. We want you to make an informed, intelligent buying decision where you get the best value for your money! We work with our clients to ensure the vacation or cruise they choose is right for them and those traveling with them.
The world awaits you and we look forward to assisting you in choosing the exact right adventure on the waters or land for you and your companions!
Let's chat and find the right vacation for you.