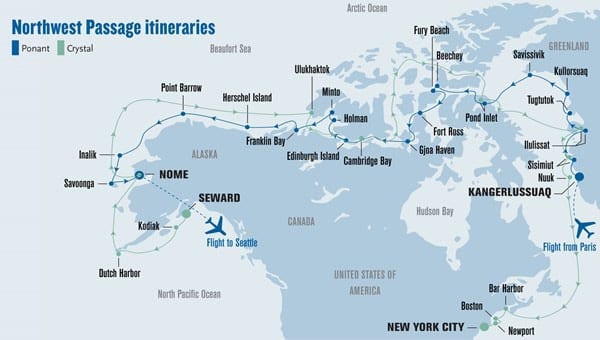 Courtesy of Travel Weekly
​As the global oceans continue to warm, new polar cruise routes are opening and several cruise lines are offering new and exciting expedition voyages.  Now passengers can cruise from Seattle through the Northwest Passage from Seward, Alaska, to New York City. Crystal Cruises began these sailing about two years ago. Since then Ponant, Silversea, Lindblad, and Hurtigruten have begun sailing the passage. Cruises typically run 12 – 21 days.
​THE LURE OF THE NW PASSAGE
​The draw of these luxury expedition cruises is the ability to experience the wild and primeval wonder of the Canadian arctic as you traverse the routes taken by great explorers of the past. As you pass the coast of the Russian Far East and head through Canada, you'll see polar bears, musk ox, walrus, beluga and narwhal whales searching for food. You'll watch a waddle of penguins play on land. You can visit an Inuit village, learn about their history, and experience their rugged way of life. You will  visit parts of the world few have ever seen – unspoiled, wild, and majestic.
CHALLENGES OF WARM WATERS
​While global warming has created the opportunity to sail through the NW passage, this year it created a new problem – ice floes. As ice melts and breaks apart, the ice is blown around by winds creating hazards for cruise ships. This year, several cruises had to modify their itinerary, and a few were canceled, as ice floes impeded cruise routes. But sophisticated cruisers understand this is how nature operates and the cruise lines must adapt. And so too, we must be adaptable. For those that were cancelled, the cruise lines offer generous compensation.
While it is important to understand possible disruptions, the opportunity to see and experience this pristine and ever changing landscape offers a strong attraction to sophisticated cruisers seeking adventure. The best time to cruise the arctic is in the warmer month of August. And don't forget to take your camera.
So how to choose the right vacation for you?
Vacations are an investment! With literally thousands of options, choosing the right vacation and the best value is difficult to sort through. That's where I bring my 12 years of travel experience and expertise to do this right, and get you the best value for your money. With the backing of the largest travel consortium behind me, we have options you can't find online. Plus our work just gets started once we book your dream vacation. Chat with us to learn more.
The world awaits you and we look forward to assisting you in choosing the exact right adventure on the waters or land for you and your companions!
Let's chat and find the right vacation for you.