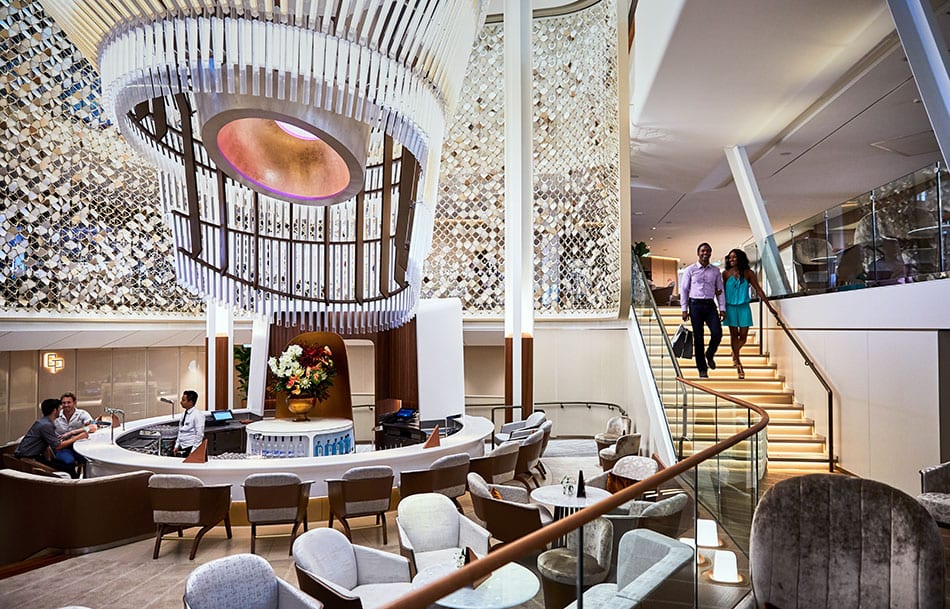 ​As Baby Boomers and Gen Xers move more and more upscale in their cruise preferences, they are looking for a more relaxed cruise experience than previous generations. And it is really no surprise if you think about it. Baby Boomers railed authority in their protest during the 60s & 70s. They have sought more freedom and less rigidity.
So it is no surprise that the cruise industry is responding to this changing demographic and their preferences. Celebrity Cruises has responded by dropping "Formal Nights" for "Evening Chic," and sophisticated cruisers will appreciate this change.
WHAT IS "EVENING CHIC?"
Evening Chic is intended to be less dressy than Formal Nights. For women, it is a cocktail dress; or, a skirt, pants, or designer jeans with an elegant top. For men, it is pants or designer jeans with a dress shirt, or button-down shirt or sweater. Celebrity says, "Evening Chic means that you can get glamorous and be sophisticated in your own way. If you would like to still wear a tuxedo or formal gown on Evening Chic nights, you absolutely should."
Celebrity has relaxed its regular evening dress code, "Smart Casual," slightly. Now, for women it means a skirt, pants, or jeans with a casual top. For men, it is pants or jeans with a short sleeve sport shirt.
All of this will be welcome by the Baby Boomers and Gen Xers wanting a more relaxed but still sophisticated experience. It mean you will no longer have to pack a tux or formal suit on those warm Caribbean or Mediterranean cruises.
Kudos to Celebrity Cruises for recognizing it was time to change.
So how to choose the right vacation for you?
Vacations are an investment! With literally thousands of options, choosing the right vacation and the best value is difficult to sort through. That's where I bring my 12 years of travel experience and expertise to do this right, and get you the best value for your money. With the backing of the largest travel consortium behind me, we have options you can't find online. Plus our work just gets started once we book your dream vacation. Chat with us to learn more.
The world awaits you and we look forward to assisting you in choosing the exact right adventure on the waters or land for you and your companions!
Let's chat and find the right vacation for you.