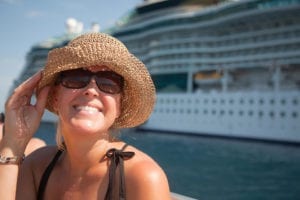 You may have noticed a significant rise in the price of cruise fares recently. We've been watching them rise since the resumption of sailing began over the last couple of months. There are several reasons for this increase and we'll cover them all below.
1) Increased demand
For most of us, its been nearly 18 long months of no cruise sailings and no vacations. This absence of cruises & vacations has caused demand to skyrocket as we are all ready to get out and start sailing again. Demand pushed up cruise line bookings by 30 – 40% this year over last November/December levels. Demand is so high that Royal Caribbean reported its 2023 sailings are starting to fill up. Increased demand results in price increases.
2) Future Cruise Credits
The shutdown of the cruise industry put the cruise lines in dire financial shape. They were hemorrhaging cash and unable to take future bookings. To cushion the blow and to allow the cruise lines to keep their guest funds (versus having to refund them), cruise lines offered the guests 125% Future Cruise Credits (FCCs) to entice guests to leave their money with the cruise line. Most of us opted to take these enhanced Future Cruise Credits (FCCs) for their cruises that were canceled in 2020 and 2021. These FCCs all carried an expiration period of around 18 months. Now all of those guests with FCCs are rebooking within the expiration window which will go through mid to late 2022 – taking all that stateroom inventory space away. This reduction in available staterooms leads to higher demand and increased prices for those remaining staterooms available for purchase.
3) Cruise lines feel pressure from investors/lenders
Wall Street financed the cruise lines over the last 18 months and allowed them to survive. Now investors want returns on their investment leading to increase pressure on cruise fares.
4) Fewer ships available
Most cruise lines are currently operating less than half of their fleet. With a large number of ships still out of service, the number of available staterooms for purchase is greatly reduced. This leads to higher prices as demand grows for a smaller number of available cabins.
5) Lower occupancy due to Covid restrictions
Most ships are operating below full capacity. Today ships are operating around 50 – 60% of capacity under their Covid-19 health and safety protocols to minimize the spread of Covid-19 on their ships. However, their fixed costs (ship maintenance, fuel, employees, debt service, etc.) remains constant. So these overhead costs need to be spread over a smaller number of passengers which increases cruise fares.
Expect higher fares to last through most of 2022 until these factors begin to resolve themselves. Oh, and you'll continue to see special offers and "sales" on cruise fares, but most of these are based on cruise fares that have already been jacked up.
So how to choose the right vacation for you?
Picking the right vacation is a decision with many variables: which hotel, cruise line or tour company is right for you, which destinations interest you, what are the demographics of fellow travelers, what are the service standards, what activities are available, and most importantly exactly what do you desire from the experience. We want you to make an informed, intelligent buying decision where you get the best value for your money! We work with our clients to ensure the vacation or cruise they choose is right for them and those traveling with them.
The world awaits you and we look forward to assisting you in choosing the exact right adventure on the waters or land for you and your companions!
Let's chat and find the right vacation for you.