You'll be denied boarding on a plane without a REAL ID or a passport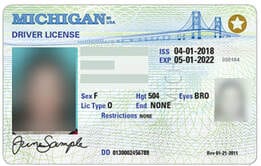 Updated: December 6, 2022
​The federal requirements to have a "Real ID" compliant driver's license in order to board a plane or enter a federal building that requires an ID has been pushed back still again. The new implementation date is May 7, 2025.
The implementation date has been pushed back several times. Most recently in response to the Coronavirus pandemic. Now it has been delayed by Homeland Security due to problems the state's faced in issuing compliant IDs due to the Covid pandemic.  We wonder if the delay is more about the 2024 presidential elections and the fear of a voter backlash to a new mandate rather than Covid, but we'll never know. We support the Real ID effort as a way to help protect our national air system.
After May 7, 2025, anyone who doesn't have a "REAL ID" compliant driver's license will need a passport, military ID, or a federal government PIV card, otherwise, they will be denied boarding.
The REAL ID Act was passed by Congress in 2005 in response to the 9/11 attacks. The start date has been pushed back several times to give states more time to come into compliance with the Acts requirements, but no more delays are expected.
​"REAL ID" compliant driver's licenses are marked by a gold circle with a star inside on the upper right corner of the license. If your license doesn't have this gold star, you'll need to apply for a new license and supply the additional documentation required by the "REAL ID" Act.
Not all new driver's licenses issued by states are "REAL ID" compliant. States will continue to issue non-compliant licenses. So it is up to you to ensure you obtain a compliant license. To obtain a "REAL ID" compliant license, you must supply:
Proof of Identity – U.S. Passport, U.S. birth certificate or other approved documentation.
Proof of Social Security Number – Social Security card, W-2 or pay-stub.
Proof of residency – 2 pieces, lease or mortgage bill, utility bills, credit card statements.
Check with your state for more details.
Don't be caught on May 7, 2025 without one or you'll be denied boarding on your flight unless you have a U.S. passport.
So how to choose the right vacation for you?
Vacations are an investment! With literally thousands of options, choosing the right vacation and the best value is difficult to sort through. That's where I bring my 12 years of travel experience and expertise to do this right, and get you the best value for your money. With the backing of the largest travel consortium behind me, we have options you can't find online. Plus our work just gets started once we book your dream vacation. Chat with us to learn more.
The world awaits you and we look forward to assisting you in choosing the exact right adventure on the waters or land for you and your companions!
Let's chat and find the right vacation for you.