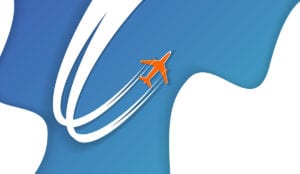 After nearly 18 months of quarantining, Americans are ready to travel again and boy are they booking reservations. Pent-up demand is boosting bookings to near record highs for many companies. Since Americans haven't traveled for over a year, they have funds available to book those dream and bucket list vacations.
As Europe opens up, river cruises start sailing again, cruise lines are re-starting their fleets, and airlines are near capacity, it is not surprising that bookings across the travel industry are approaching record levels. American Express said its May bookings were at 95% of May 2019 sales.
As demand increases, we are seeing prices rise. Cruise lines operating at less than full capacity as part of the Covid prevention effort have been raising prices to compensate for reduced capacity. Airline prices have soared in the past few months – doubling and even tripling on many routes.
Hilton reported its occupancy rates were over 93% during the Memorial Day weekend as hotels gleefully watched reservations skyrocket. While hotels are watching their bottom line income rise,  the industry is struggling to find staff to service their properties and guest, which is leading to some consumer dissatisfaction.
It is predicted that US travel will fully return by the end of the year which is welcome news to an industry that has suffered greatly during the pandemic.
But there is still concerns about Covid. More than three-fourths of all ocean cruisers want all passengers to be fully vaccinated. Most have said they'd reconsider a cruise where vaccinations weren't mandatory.
As more countries increase their vaccination rates and lower entry requirements, travel will continue to boom. The best recommendation is to book early.
So how to choose the right vacation for you?
Picking the right vacation is a decision with many variables: which hotel, cruise line or tour company is right for you, which destinations interest you, what are the demographics of fellow travelers, what are the service standards, what activities are available, and most importantly exactly what do you desire from the experience. We want you to make an informed, intelligent buying decision where you get the best value for your money! We work with our clients to ensure the vacation or cruise they choose is right for them and those traveling with them.
The world awaits you and we look forward to assisting you in choosing the exact right adventure on the waters or land for you and your companions!
Let's chat and find the right vacation for you.