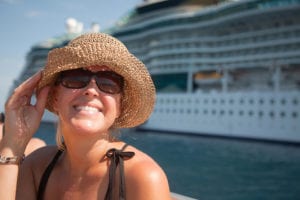 Many people may think that traveling alone is not the best way to go. In reality, a solo trip can be more fun and less stressful than you would imagine! For those who are traveling on their own, there is a special kind of freedom that can be found when you book as a single traveler. Solo travelers have access to not only more space but also greater personal service from staff members and crew members alike! Plus, on a cruise ship you rarely find yourself alone. More often you are surrounded by others wherever you go.
In this article I'm going share some tips for finding your perfect cruise line as well as tell all my fellow solo cruisers about how much fun they're missing out on by not taking these vacations alone.
Solo travel is becoming more popular
As solo travel becomes more popular, more cruise lines are catering to solo travelers. Many people want the flexibility of enjoying their own time while on vacation but still having access to group activities and events. There are many different ways that solo travelers can enjoy a cruise ship without feeling like they're alone all of the time!
Solo travel can be more expensive
Beware the dreaded "single supplement"
Cruise fare pricing is typically based on two people sharing a stateroom which is called "double occupancy." Solo cruisers will typically pay 125% – 200% above published prices (for one-person) on most cruise lines. This extra charge is called a "single supplement."
However, some cruise lines are tailored to single travelers, and offer discounts for the solo traveler. Some of these perks include reduced or waived single supplements. A few have even built staterooms designed and priced for a single occupants.
Many cruise lines are adding new amenities for solo travelers so that everyone has the opportunity to feel included on their vacation!
Advantages of solo travel
One of the biggest advantages of solo travel is that solo travelers will get to explore ports more freely. There are no plans, no schedules and fewer people needing attention. A solo traveler can go at their own pace instead of being held back by others!
In addition to exploring on your own terms you'll have plenty of opportunities for new friends while you're solo. Cruise ships are built for socialization since that is their biggest draw! Whether it's a formal event, or simply meeting someone at dinner, there will always be an opportunity to meet new people and make lasting connections.
Many solo travelers enjoy the freedom of being able to do what they want when they want. No one else has to be ready at the same time as you, and there's no waiting for other people to go out. If solo travel is right for you then it will allow you ultimate flexibility in planning your vacation itinerary!
Many solo travelers like that they can sleep late if they want, or wake up early without having to disturb someone else sleeping next to them. They also like the extra storage space solo travelers get in their cabins which is not available to those who share a room with someone else!
Finally, solo travel allows you to keep your vacation stress free and worry-free by having no one else's needs but your own that have to be taken into consideration. No worrying about anyone else's hangovers, preferences or allergies.
Best cruise lines for solo travelers
Here is our list of the best cruise lines for solo travelers. Please note that single cabins are typically in high demand and typically sell out quickly. Most need to be booked at least one year in advance if not longer.
Celebrity Cruises (Premium cruise line)
On Celebrity, solo travelers can book single "Infinite Verandas" balcony stateroom on Celebrity's Edge-class ships (Edge, Apex, and Beyond) . These staterooms feature a queen-size bed. They are slightly smaller than the standard Infinite balcony rooms at 131 square feet, but plenty roomy for a single traveler. Celebrity Silhouette has 4 inside single cabins.
Crystal Cruises (Ultra-luxury cruse line)
Solo travelers are a niche group that make up to 25 percent of Crystal's passengers. Solo-oriented activities onboard and low single supplements (as low as 10% for certain categories and cruises) attract solo visitors.
Holland America Cruises (Premium cruise line)
If you are a little older and a solo traveler, Holland America may be a good fit for you. Holland America is known for catering their services toward this demographic and they offer many programs that don't require partners like activities which can be enjoyed alone or with others in tow! For example: the culinary workshops allow participants an opportunity hands-on cooking experience, while wine tastings give everyone something fun. Their Single Partners Program hosts onboard events such as cocktail mixers. So why not pack up your bags today?
Their newer ships now offer solo cabins. You'll find them on the Niew Statendam, Rotterdam, and Koningsdam each offering 12 solo cabins. Room size varies from 127 – 172 square feet.
MSC Cruises (Contemporary/mass market cruise line)
MSC has "Interior Studio" cabins designed for solo cruisers. These cabins are about 129 square feet.
MSC frequently waives the "single supplement" charge for solo travelers on select itineraries for inside, oceanview and balcony categories. The best time to get these deals is after final payment and if it looks like the cruise will not sail full.
Norwegian (Contemporary/mass market cruise line)
Norwegian was the leader in building solo cabins. It has made a concerted effort to accommodate solo travelers by adding studio cabins on many of their newest ships. The Norwegian Epic was the first of its ships to build 128 studios designed for the single traveler. Other Norwegian ships now have solo cabins as well – Breakaway – 59; Getaway – 82; Escape – 82; and Pride Of America In Hawaii – 4 cabins.
Norwegian single Studios are inside cabins, but are comfortable with a full-sized bed, flat screen television (some which can act like a virtual window giving you an ocean view) and private bathroom. Cabins are about 100 square feet.
To take solo travel to the next level, Norwegian created the Studio Complex and Lounge, a shared social place where solo travelers can meet, chat and enjoy a coffee or cocktail.
Royal Caribbean Cruise Line (Contemporary/mass market cruise line)
Royal Caribbean Cruise Line offers solo travelers the opportunity to purchase a solo cabin on many of their most popular ships. Almost half of Royal Caribbean's fleet now has solo cabins. The type of cabin varies by class of ship. Studio Interiors can be found on the Anthem, Adventure, Brilliance, Harmony, Jewel, Mariner, Ovation, Quantum, Radiance and Serenade of the Seas and offer 96 square feet. Studio Virtual Balcony cabins can be found on the Anthem, Harmony, Ovation and Quantum of the Seas are similar to Studio Interiors but feature a "Virtual Balcony" flat screen television which simulates a picture window. A Studio Ocean View can be found on the Harmony of the Seas with 96 square feet of space. While the Studio Ocean View Balcony on the Anthem, Quantum and Ovation with 119 square feet of cabin space plus an additional 55 square feet for the balcony.
On Royal Caribbean Oasis-class ships, solo cabins are located in Central Park and Boardwalk neighborhoods; one is an inside stateroom while the other is an outside with obstructed views (meaning you'll be able to see out but people walking along the promenade deck may be able to see in). Solo travelers have access to the Cruise Connections Lounges where they can relax and take advantage of Wi-Fi.
Silversea Cruises (Ultra-luxury cruise line)
Silversea has always prided themselves as being an inviting place where everyone feels welcome–even if you're going alone! As part of this philosophy there's even something special waiting in store just for passengers travelling independently, a champagne reception for singles. Promotion single supplements can be as low as zero. Typical supplement range from 10% – 30%.
Virgin Cruises (Premium cruise line)
Virgin is a new cruise line and launched with its first ship the Scarlet Lady. There are two solo cabins categories available on the ship. The Insider is between 105 – 177 square feet. The Seaview ranges from 130 – 190 square feet.
With so many options out there for solo travelers, you'll be able to find the perfect cruise for your needs no matter what type of traveler you are. Whether it's a luxury experience or an affordable option, we can help you find which one is best suited for your solo travel plans! If you have any questions about these different types of cruise line offerings that we didn't cover in this blog post, give us a call at (602) 334-6200 or schedule a video chat with one of our experts by clicking on "Schedule a Phone or Video chat" below.
So how to choose the right vacation for you?
Picking the right vacation is a decision with many variables: which hotel, cruise line or tour company is right for you, which destinations interest you, what are the demographics of fellow travelers, what are the service standards, what activities are available, and most importantly exactly what do you desire from the experience. We want you to make an informed, intelligent buying decision where you get the best value for your money! We work with our clients to ensure the vacation or cruise they choose is right for them and those traveling with them.
The world awaits you and we look forward to assisting you in choosing the exact right adventure on the waters or land for you and your companions!