The cruise industry is going through a generational change. These changes will affect your cruise experience and you should consider them before choosing your next cruise.
1) RECORD GROWTH
In 2019, the cruise industry will surpass the 30 million passenger per year mark for the first time. The North American cruise passenger market grew by 9% in 2018. This growth will add to calls for responsible tourism as certain ports grapple with overcrowding.
More Floating Mega-Resort Ships
​The growth of floating mega-resorts continues with the Mass Market/Contemporary cruise lines (Norwegian, Royal Caribbean, Carnival) as they try to out do each other with new and innovative onboard attractions. Just like land-based mega-resorts (Disney World and Universal Parks) these floating resorts are designed to be your destination by offering a multitude of entertainment attractions and dining venues targeting the entire family. With these ships it is all about the ship and the attractions it offers, and less about the various ports you visit.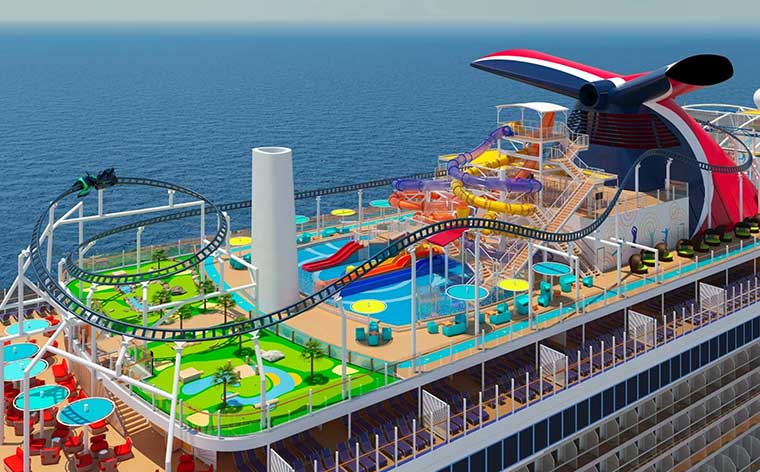 Courtesy: Carnival Cruise Line
More Eye Popping Attractions
The competition for new entertainment attractions continues to escalate with larger water parks, and even the first roller coaster built on a ship, Carnival's Mardi Gras. Each cruise line seeks to create its own unique attraction to set it apart from its competition. Norwegian has its 300-meter go kart track while Royal Caribbean  has it FlowRider, zip-lines and water slides.
​
On the downside, we'll start seeing more additional charges for some onboard attractions/activities such as Norwegian's charge of $9.95 for a 10-minute laser tag game.
Luxury & Expedition Market Grows
As more of the Baby Boomers and Gen X move up to the luxury and ultra-luxury cruise lines, the demand for newer ships designed to reflect this generation's preference for sophisticated and casual cruising has grown significantly. Each cruise line has embarked on a building spree of new ships to meet this demand.
One the the biggest growth areas has been the expedition cruise niche. These ships hold 250 or less passengers and take them to more remote and exotic destinations. The port stops are more active and even vigorous with the emphasis being on learning, understand and experiencing each stop. In the Arctic you will use Zodiacs to reach colony of penguins. In the Galapagos Islands you'll walk the trails that Charles Darwin followed as he developed his theory of evolution. In the north, you can now traverse the northern passage which had been impassable until recently. These cruises are about enrichment and adventure, but offered on a luxurious and casual ship.
​From the Mass Market/Contemporary cruise lines to the ultra-luxury lines, you'll see Internet speeds increasing with some approach speeds reached at home, while prices drop significantly. Cruise lines recognize that we live in a more connected world whether that is for families or business reasons, and they have made significant financial investments to upgrade the WiFi and Internet equipment.
3) MILLENNIALS & BABY BOOMERS ARE CHANGING CRUISING
​Like any market, cruise lines are affected by changes in demographics. As Millennials become the largest segment in the US market (overtaking Baby Boomers in 2019) Mass Market/Contemporary lines need to adjust to attract this newer generation to cruising. Part of the effort is evident in changes in how these lines market their brand, other parts focus on building more activities and entertainment onboard as well as increasing the variety of dining and bar venues.
These lines are offering more 3 and 4-day cruises designed to give Millennials a chance to experience cruising at an attractive price in the hopes of building a lifetime customer. Virgin Voyages is a new cruise line built entirely around a Millennial aesthetic with its  Squid Ink Tattoo Studio and the option to have a Drag Lunch with the resident drag queen.
Celebrity Cruises is making the most aggressive changes in the premium cruise lines category (Celebrity, Holland America & Princess) to attract Millennials with its Edge Class ships. Celebrity will retain its Solstice Class ships which will are hugely appealing to Baby Boomers, while being able to attract newer Millennials guests with the Edge Class ships.
​
In the luxury and ultra-luxury category, the lines are changing their ships to reflect the sensibilities of BabyBoomers & GenX after decades of catering primarily to members of the Silent Generation. Changes included a slow but clear shift to less formality and rigidness – open dining, less or no formal nights, and a more relaxed sophisticated atmosphere versus the over-the-top opulence of the past.
4) INCREASED DEMAND FOR IMMERSIVE DESTINATIONS EXPERIENCES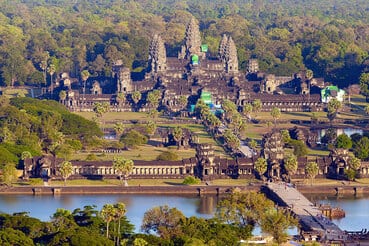 Angkor Wat Temple
This is almost the antithesis of the floating-resort mentality. These are passengers seeking a more authentic, and immersive experience where the ports destinations are the focus of the cruise. Azamara Cruises, a luxury line, has built its message around destination immersive cruising. Other luxury and ultra-luxury lines have similar programs where they bring onboard guest lecturers and experts on the destinations the ship will visit. Experts cover topics such as history, architecture, the local cuisine, the environment, and politics. A shore excursion might include a local chef taking a small group to a market to explain local foods, followed by a lunch at a top local restaurant, or it might be a visit to a winery to learn the history of vineyards in the region, as well as a sampling of their offerings.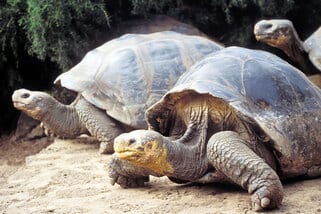 Giant Tortoise, Galapagos Islands
There is an explosion in "expedition" cruises with several new ships of 300 or less passengers to explore more exotic destinations like the Arctic, Antarctica, the Galapagos Islands and other regions. This cruises are active adventure cruises and attract a mix of younger and older passengers.
​
These destination-oriented cruises are attracting Millennials searching for authentic experiences, but they attract more Baby Boomers who have visited the Caribbean and even the Mediterranean several times and are looking for something more than the same major cruise ports. They are seeking out destinations on their bucket lists which capture their imagination and then wow them once they arrive.
More Environmentally Friendly
Cruise lines are taking significant steps to minimize their impact on the environment. This ranges from massive recycling efforts to smaller steps like minimizing or eliminating the use of single use plastic bottles and straws. The new Celebrity Edge has eliminated disposable water bottles. Some lines have committed to re-purpose 100% of waste generated onboard through reducing, reusing, donating, recycling or converting waste into energy. Several lines are introducing LNG powered ships which will greatly reduce air pollution in ports and on the seas.
Celebrity Edge
Cruise lines are introducing a wide variety of new technology to enhance the boarding and onboard experience. Royal Caribbean is rolling out technology that can get you through check-in and onboard in 10 minutes.
​Once onboard Celebrity lets you use your smartphone to unlock your stateroom door, turn on and off the lights, open and close the curtains, and adjust your thermostat on Edge Class ships. Smartphones can be used on some ships to book specialty dinner reservations and even book shore excursions. MSC cruises has created a digital assistant, Zoe, who will help guests with questions.
As we have more connected electronics, cruise lines are adding more power plugs and even USB ports to make life easier.
While the Silent Generation brought us modern cruising with its more rigid scheduling, formal dress, and flair for the elegant, there is now a steady and unstoppable trend to a more casual cruise experience. Across the board, from mass market to ultra-luxury cruise lines, the undeniable trend is to either relax once rigid dress codes with their formal nights or outright eliminate them. Even with those cruise lines which still have formal nights, the trend is to offer options for those who don't want to participate. The majority of lines have embraced the sensibilities of today's cruise passengers' preference for a more casual cruise experience.
As part of this preference, more cruise lines are embracing open dining. Some cruise lines only offer open dining while others allow guests to choose fixed or open dining.
​Even the design of the ships interior and its atmosphere is changing toward a more sophisticated concept which generally eschews the opulent and over the top design of early ships. There is grandeur and glamour, but it is more understated and less in your face.
As the cruise industry changes, it offers opportunities for for new and experienced cruisers. The move to offer a variety of short cruises of 3 to 4 days gives business families the chance to experience the joy of cruising.
The growth of the luxury and expedition markets give experienced cruisers new and exciting ports that they've not experience before.
If you want to learn more about these changes and what they could mean for you, give us a call or schedule a time for a phone chat.
​Happy sailing.
So how to choose the right vacation for you?
Vacations are an investment! With literally thousands of options, choosing the right vacation and the best value is difficult to sort through. That's where I bring my 12 years of travel experience and expertise to do this right, and get you the best value for your money. With the backing of the largest travel consortium behind me, we have options you can't find online. Plus our work just gets started once we book your dream vacation. Chat with us to learn more.
The world awaits you and we look forward to assisting you in choosing the exact right adventure on the waters or land for you and your companions!
Let's chat and find the right vacation for you.