Understanding the current state of COVID travel restrictions is one of the top questions we get nowadays. The rules change frequently and are not consistent even within regions.
To work through this confusion, we use a program called Sherpa to help guide our clients through this maze. The information is current at the moment the report is provided, but conditions can change at any time so you'll need to re-check the information prior to your travel.
Search round-trip or one-way
Sherpa allows us to search by connection points which is important because many restrictions are based on where you are flying from and to. It also lets us search based on whether you are vaccinated or not, as the travel restrictions may vary based on your vaccination status. We can also include any connections through other countries during your flight as that may trigger additional restrictions . Plus we can search based on either a round-trip or one-way trip.
Report includes any restrictions
The report will advise whether there are restrictions such as requiring a negative test prior to departure or a quarantine upon your arrival. Plus it will provide different directions based on your vaccination status for those countries that have different rules for vaccinated and unvaccinated visitors.
Anywhere you see the notice, "See Details" be sure to click that box. It will include important information which
fully explains the requirements. In this example, it advises you that travelers from the United States who have not traveled to three specific countries are allowed to enter.
Some countries are requiring health information documentation or vaccine passports prior to arrival. The site provides links to those forms.
For all the information provided, the site provides the source of the official information and a link to it. Just click on the "Source" headline and all the information will appear. The information is updated regularly, sometimes more than once a day.
We've found this program invaluable to our clients. It helps re-assure them about their travel plans and gives them the information they need to enter other countries.
Map of countries open to travel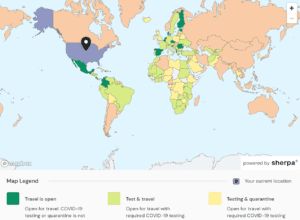 There is one other very valuable tool. On the main page, you'll notice a map and headline staying, "Thinking of planning a trip?" Click on "Let's go!" and it will bring up a map of the world. Then, click on any country and a pop-up will appear with general information about the country and their requirements for entry. It is a quick and handy tool. However, once you decide to visit a specific country be sure to go through the full process to get information tailored to you.
You can visit the site and try it out yourself: https://apply.joinsherpa.com/travel-restrictions
So how to choose the right vacation for you?
Vacations are an investment! With literally thousands of options, choosing the right vacation and the best value is difficult to sort through. That's where I bring my 12 years of travel experience and expertise to do this right, and get you the best value for your money. With the backing of the largest travel consortium behind me, we have options you can't find online. Plus our work just gets started once we book your dream vacation. Chat with us to learn more.
The world awaits you and we look forward to assisting you in choosing the exact right adventure on the waters or land for you and your companions!
Let's chat and find the right vacation for you.