| | |
| --- | --- |
| Traveling to France just got a whole lot more comfortable with the launch of La Compagnie Airline offering all-business class flights from Newark to Paris, Monaco and Nice. With round-trip prices as low as $999 from flights from Newark to Paris, it is a deal that would be foolish to pass up. | |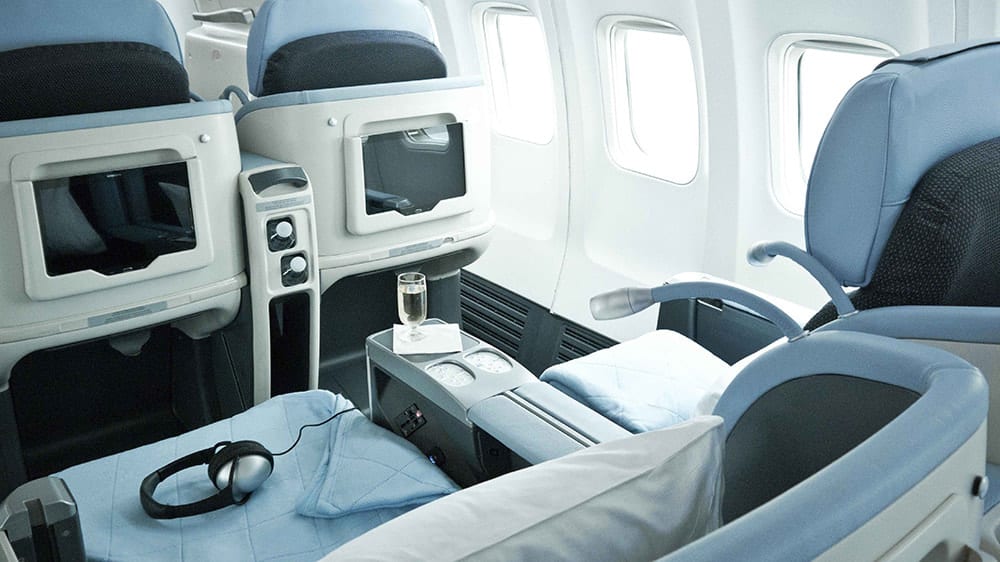 Courtesy: La Compagnie
La Compagnie is operating two new Airbus A321neo's. The 100% business-class cabin has 19 rows in a 2 x 2 configuration with seats that recline to a 175-degree angle and have a built in massage feature.
Seats are equipped with a reading lamp, compartments for personals items and electronics, an electrical outlet, a headphone plug, and a pouch for documents. For our customer's comfort and well-being on board, we provide  anti-allergenic pillows, large soft blankets, and a Caudalie travel care kit, all free of charge. The cabin is equipped with LED lighting to offer passengers a warm atmosphere during the trip.
The airline offers a wide selection of in-flight entertainment options including new and classic movies, TV shows, and music.
Not surprisingly, it is all French gastronomy onboard.  From Paris to New York, you'll receive a four-course dinner and before landing a light snack. Traveling from New York to Paris, passengers can enjoy a buffet in the Art & Lounge (La Compagnie's lounge) featuring hot dishes and salads. In additon, once onboard these guests can opt for a gourmet salad, followed by a complete breakfast the next morning.
Since the plane holds a maximum of 74 passengers there is not cattle rush at the gates. Instead the experience is quite calm and relaxing. See, flying can be enjoyable once again. See you onboard.
So how to choose the right vacation for you?
Picking the right vacation is a decision with many variables: which hotel, cruise line or tour company is right for you, which destinations interest you, what are the demographics of fellow travelers, what are the service standards, what activities are available, and most importantly exactly what do you desire from the experience. We want you to make an informed, intelligent buying decision where you get the best value for your money! We work with our clients to ensure the vacation or cruise they choose is right for them and those traveling with them.
The world awaits you and we look forward to assisting you in choosing the exact right adventure on the waters or land for you and your companions!
Let's chat and find the right vacation for you.