Mark you calendar now for February 2023 & join us!
Experience the "Elegance of the Nile"
A luxury 11-day guided tour of Egypt's most famous historical sites, including a 7-night cruise on the Nile, and 5-star accommodations. Round-trip Cairo.
Other dates are available, just ask. But we'll be on the February 2023 tour.
Prices from $5,100/person – November  & December 2021; January – March 2022 (2023 prices not available yet)
Experience Luxor as a VIP:
Visit the UNESCO World Heritage site of the temple of Luxor after hours for an exclusive VIP experience and marvel at this ancient monument.
Highlights:
Karnak: Stand amid a vast forest of columns in the largest temple complex known to man.
Giza: If only these walls could talk! Oh, but they do at the audio visual Sound & Light Show at the Great Pyramids.
Memphis: Led by your Travelling Concierge, explore this ancient capital and see the magnificent statue of Ramses II and the Alabaster Sphinx.
Dendera: Visit the Temple of Hathor and see the rare depiction of Cleopatra VII and Caesarian.
Kom Ombo: Visit the unique double-temple of Kom Ombo, dedicated to both the crocodile-headed Sobek and the falcon god, Horus the Elder. This is one of the Nile Valley's most beautifully sited temples. And much more…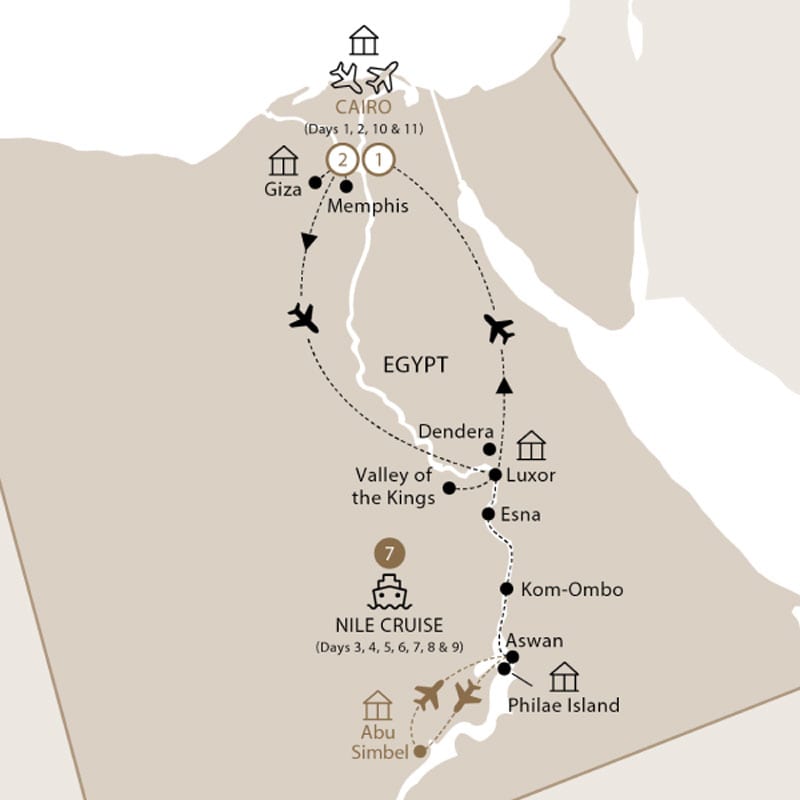 Detailed Itinerary
All trip information is correct at time of publication. Itineraries and pricing are subject to change.
So how to choose the right vacation for you?
Picking the right vacation is a decision with many variables: which hotel, cruise line or tour company is right for you, which destinations interest you, what are the demographics of fellow travelers, what are the service standards, what activities are available, and most importantly exactly what do you desire from the experience. We want you to make an informed, intelligent buying decision where you get the best value for your money! We work with our clients to ensure the vacation or cruise they choose is right for them and those traveling with them.
The world awaits you and we look forward to assisting you in choosing the exact right adventure on the waters or land for you and your companions!
Let's chat and find the right vacation for you.