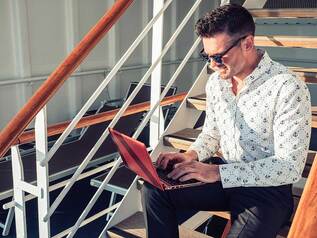 One of the downsides of this modern connected world is that internet access has become critical for many  of us while on vacation. We no longer have the luxury of just disconnecting while on a cruise. Others need it to keep in touch with friends or family.
Fortunately the cruise lines have been making significant investments to upgrade the quality and speed of internet access onboard modern ships. Crystal Cruises, an ultra-luxury cruise line, is increasing internet speeds for a second year in a row.
​Crystal Cruises will double the speed of its onboard internet service this year, after doubling it last year (2018), and the year before (2017).  John Polimenakos, vice president of information technology, said by the end of the year internet speeds will have increased eight times 2017 levels.
As an all-inclusive cruise line, Crystal does not charge for internet access. All guest enjoy free unlimited internet service.
If reliable high quality and high speed is important to you, be sure to verify in advance if it is available on the ship you want to sail on. Also check whether it is free or fee based. On some cruise lines, internet access can be expensive, as well as unreliable. We always check with our clients to see if this is one of their requirements for a happy and successful cruise vacation.
So how to choose the right vacation for you?
Picking the right vacation is a decision with many variables: which hotel, cruise line or tour company is right for you, which destinations interest you, what are the demographics of fellow travelers, what are the service standards, what activities are available, and most importantly exactly what do you desire from the experience. We want you to make an informed, intelligent buying decision where you get the best value for your money! We work with our clients to ensure the vacation or cruise they choose is right for them and those traveling with them.
The world awaits you and we look forward to assisting you in choosing the exact right adventure on the waters or land for you and your companions!
Let's chat and find the right vacation for you.