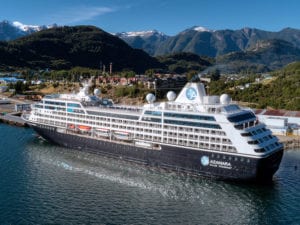 Azamara Cruises announced today that the Royal Caribbean Group has entered into a definitive agreement to sell Azamara to Sycamore Partners, a private equity firm. Azamara expects to close the sale during the first quarter of 2021. The line was sold for $201 million. Sycamore Partners will acquire Azamara's three ships.
The sale will allow Royal Caribbean to focus on its three remaining brands – Royal Caribbean, Celebrity (a premium line) and Silversea (an ultra-luxury line). Royal Caribbean said the sale was contemplated before the Covid-19 pandemic began and the sale was not driven by financial concerns caused by Covid-19. "It allows us to really prioritize our resources, which are not just financial resources — it's also the minds and time of management," Mr. Liberty told The Wall Street Journal.
The two groups are working closely to ensure a seamless transition and no disruptions to Azamara's business or reservations are anticipated. Azamara has cancelled all cruises during the Covid-19 pandemic. It plans to resume service May 1, 2021, with a 14-night Black Sea cruise. "We are pleased that Royal Caribbean Group has entrusted Sycamore to support Azamara in its next phase of growth," said Stefan Kaluzny, Managing Director of Sycamore Partners. "We are excited to partner with the Azamara team and build on their many years of success serving the brand's loyal customers. We believe Azamara will remain a top choice for discerning travelers as the cruising industry recovers over time."
Many of us are saddened to learn of this sale. Azamara offered an entry into luxury cruising for Royal Caribbean's and Celebrity's loyal client base.
Related article: Azamara Cruises buys the Pacific Princess
So how to choose the right vacation for you?
Vacations are an investment! With literally thousands of options, choosing the right vacation and the best value is difficult to sort through. That's where I bring my 12 years of travel experience and expertise to do this right, and get you the best value for your money. With the backing of the largest travel consortium behind me, we have options you can't find online. Plus our work just gets started once we book your dream vacation. Chat with us to learn more.
The world awaits you and we look forward to assisting you in choosing the exact right adventure on the waters or land for you and your companions!
Let's chat and find the right vacation for you.