Jump to the front of the line at immigration & passport control
​If you've ever flown into one of the world's busiest airports, you know how miserable the immigration, passport control, and customs process can be entering a foreign country. We've waited hours in line at London's Heathrow. During high tourist season, expect long waits in Madrid, Amsterdam, Paris, Amsterdam and Milan of up to four hours.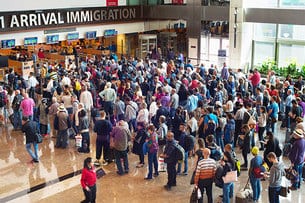 While TSA Pre-Check and Global Entry can speed you up in the United States, they don't help you overseas. But we have clients who don't want to wait for hours to clear immigration & customs in a foreign country. Fortunately, there are several airport concierge services that can whisk you to the front of the line. Depending on the airport, we use different companies.
The rates for this VIP service vary widely from as low as $100 per person to several thousand dollars. These services will meet you at your gate and escort you to the correct carousel to retrieve your luggage, and then some take you to the front of the line for passport control and customs. After clearing immigration and customs, they will take you to your pre-arranged local transfer to your hotel or cruise ship. The higher priced services frequently include access to a private or VIP lounge.
If you are flying first class, check with the airline. Several offer similar services to their first class customers. Even if you are not flying first class, some airlines offer meet-and-greet services for a reasonable fee.
These services are not just for arriving in a foreign city. They are also available able for connection services (in a foreign country) as well as departure assistance (in foreign countries).
All of these can be very helpful if you are in a country that doesn't speak English, you don't speak their language, or you're concerned about how to navigate foreign airports.
Many of our clients use these services for the peace-of-mind and time savings they provide. Who wants to start a vacation stressed out? Treat yourself to VIP service. As Sophisticated Cruising, we can make all of the arrangements for you.
So how to choose the right vacation for you?
Vacations are an investment! With literally thousands of options, choosing the right vacation and the best value is difficult to sort through. That's where I bring my 12 years of travel experience and expertise to do this right, and get you the best value for your money. With the backing of the largest travel consortium behind me, we have options you can't find online. Plus our work just gets started once we book your dream vacation. Chat with us to learn more.
The world awaits you and we look forward to assisting you in choosing the exact right adventure on the waters or land for you and your companions!
Let's chat and find the right vacation for you.